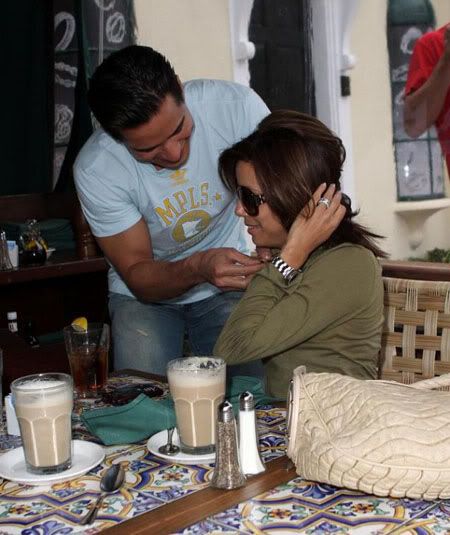 Earlier this week, we told you about E!'s new reality show, "Pop Fiction," in which celebrities engineer pranks on the paparazzi and tabloids, to prove….I don't know what. That you can't believe what you see in a photo? The show was responsible for Paris walking around Hollywood with a fake shaman and Avril Lavigne shopping at baby stores wearing a prosthetic pregnancy belly. Well, it looks like the item we ran last week about Slater– er, I mean, Mario Lopez giving his BFF Eva Longoria a gold necklace from Cartier was all a big prank for "Pop Fiction," too. Hardy har har.
It's true that Eva Longoria-Parker and Mario Lopez are friends, but the Cartier necklace he gave her on March 6 is fake! In Touch can exclusively reveal that the pair were setting up a skit for Ashton Kutcher's new reality show with a twist, Pop Fiction. In fact, a video crew even followed the friends to the Hornitos tequila-sponsored opening of Eva's restaurant Beso later that night. The show picks up where Punk'd left off, with celebrities acting out fake scenes in front of paparazzi.
Big deal. It was pretty much a non-story anyway. Some oily, washed-up former teen star who's hanging around with an about-to-be-over "It" girl, hoping some of her fame will rub off, pulls a prank on the paparazzi. Wow. That Ashton, he sure is clever!
I'm still confused about the concept of the show. Celebrities don't like it when tabloids make up false stories about them, so they….intentionally set up false stories? Maybe I need to smoke what Ashton's smoking, and then I'll get it.