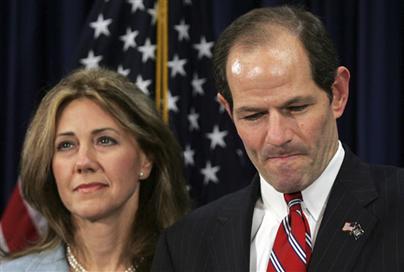 Stephen Colbert

Stephen Colbert joked about the major story of the day and at first said it was John Gibson leaving Fox New's "The Big Story" and then Tucker Carlson's MSNBC cancellation, but then finally talked about Spitzer. He covered how the media followed the governor's SUV through traffic for 20 minutes hoping he would stop and pick up a prostitute. They showed a close up of the car and it had a bumper sticker that said "My other ride is a hooker."
Colbert pointed out to much applause that Spitzer appeared on his show on the night after he arranged for the hooker to come meet him, which was one day before he committed the deed that led to his resignation. He said he was "The meat in the Spitzer sandwich" and that "a lot of people consider an interview on my show a form of foreplay."
Jimmy Kimmel monologue

Kimmel's monologue wasn't that great. He said that if you do the math of $80,000 spent on hookers over the last ten years, that's only $22 a day. He also said that Spitzer didn't seem contrite in his speech, then they showed a fake clip of the end of Spitzer's speech that had a hooker getting up from underneath the podium afterwards.
Kimmel showed the picture of Spitzer's hooker in a bikini and said that he should have held it up and said "Look at her. What are you going to do?" Then he brought on his security team as the "worst political team on tv" to talk about the scandal.
David Letterman's monologue

Letterman said Spitzer left his resignation on the nightstand with a $300 tip. He also said it's a somber mood in NY and the hookers in Times Square were wearing black armbands. Letterman quipped that Spitzer will now have to pay women to call him Governor. He said Spitzer was on Hillary Clinton's shortlist for a possible Vice President and "boy she can pick 'em can't she?"
The Daily Show

Stewart's was easily the funniest commentary on the scandal.
"The answer: 'A day and a half.' The question: 'What is the amount of extra time you get to stay in power after the revelation of a sex scandal if you are a non-gay governor.'"
"And so, Elliot Spitzer headed to his midtown office to make the announcement while receiving what the networks now refer to as 'The Full OJ'" [cameras following his SUV]
"As you can see, the trip gave commentators ample time for analysis." [Cut to boring comments by news reporters about traffic.]
"If you're in the car with your wife, on the way to resign from the state's highest office after facing prostitution charges. I'd run that light…"
As for the fact that the Governor's wife accompanied him to the second press conference, Stewart said "Calgon take her away! There's got to be a chaise lounge in Bermuda with that lady's name on it…"
Stewart pointed out the irony in Spitzer's remarks that "From those to whom much is given much is expected."
He answered: "Which is why I gave over $80,000 to hookers. I expected a lot from them. And then of course the big news."
Stewart jokes that the day Spitzer has chosen for the "orderly transition is St. Patrick's Day" and shows a picture of a shirtless guy drinking a beer wearing giant green sunglasses and a green top hat. "I'm beginning to wonder about this guy's judgment."