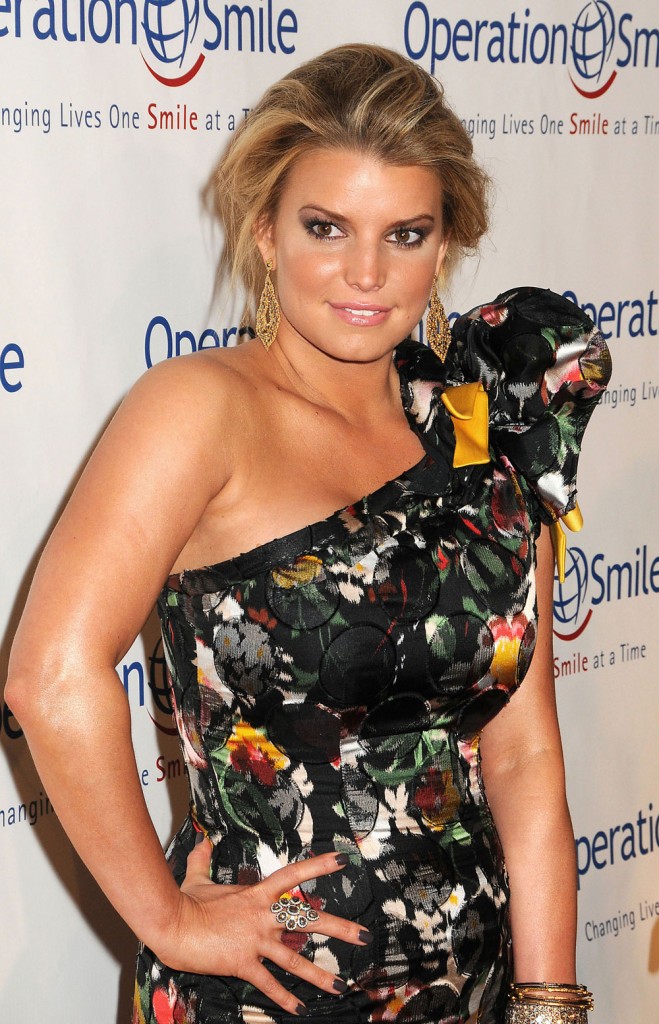 I know this isn't new in that all of these quotes from Jessica Simpson have been out there for a while. It's interesting, though, that both US Weekly and Star Magazine have features this week about Jessica Simpson's poor hygiene. (They also both have "Twitter Wars" sections on the latest minor celebrity feuds over the social networking service. Great gossiping minds, I guess.) There are new photos of Jessica, ironically at an Operation Smile event, that I wanted to publish, so I thought we may as well repeat these stories. They stem from Jessica's latest comments about how she only brushes her teeth three times a week. Taken along with other things she's said, about how she chews Nicorette gum (but never smoked) and will only wash her hair when it smells, she sounds like a mess of her own making. Jess usually looks great though, so it seems like her problem is her loud mouth, not the fact that she's particularly lax about grooming.
Here are Star and US' take:
Star: Jessica's Big Dirty Mouth
You never know what she'll say next!
"I don't brush [my teeth] every day… maybe three times I week… I'll use a shirt or something. I know it's gross, but I always have fresh breath."

"I am addicted to Nicorette gum… it's like a party in my mouth… I just spit it out and put it on my water bottle before I came [on The Tonight Show]."

"I've broken [my nose] a few times, just walking into the doors… going out to grab another brewski."

US Weekly: Jessica's Hygiene Hijinks
[Includes the teeth brushing comments and Nicorette gum saving that Star also reported. New items are below]
Keeps Hair Dirty
"If I'm just in a hang-out mood, I won't even wash it," the singer said of her blonde mane. "I'll wait until it smells."

Farts in bed
"To be my man, you have to put up with a lot," Simpson confessed. "I toot under the sheets." Another habit? "I can belch the A.B.C's."
[Print editions of Star and US, May 17, 2010]
I think Jessica calls it "breaking her nose" when she just bruises or smashes it, but now that the comment is out there it can serve as a good excuse for any future plastic surgery.
Many of you mentioned Jessica's infrequent hair washing in our last post on this issue, in which we quoted her dentist saying that he was surprised there are people who don't brush their teeth every day. The consensus was that it's ok to wash your hair every other day, or even every few days once your hair gets used to it and produces less oil. This is especially the case for women who have hair extensions like Jessica. Teeth brushing is nothing like that and needs to be practiced twice a day or more. If you also consider how Jessica has discussed her farting habits (and how she openly talked about going number two while she was on Newlyweds, etc.) she just seems to have no filter. It's like she thinks it's ok to tell the press the stuff she should only be admitting to her closest friends. Is that what having a reality show from a young age does to you and/or is this girl just exceptionally dim? Not only does she do stupid things, she'll compound that by telling you all about it.
Here's Jessica at the Operation Smile event last night with Ken Paves. I don't love her dress, but it's not bad and the cut isn't unflattering. The giant puff bow on the side is kind of obnoxious, but this is Jessica so it could be worse.
Kaiser likes Jessica's dress, and writes "I was looking at them and I actually think the dress kind of works. It makes her look pretty thin – I'm starting to wonder if she just lost some weight really fast. The hair is bad though. WTF is Paves thinking?" I think her makeup is overdone too. Has Jessica ever looked exceptionally well styled on the red carpet?
Photo credit: L. Gallo/WENN.com