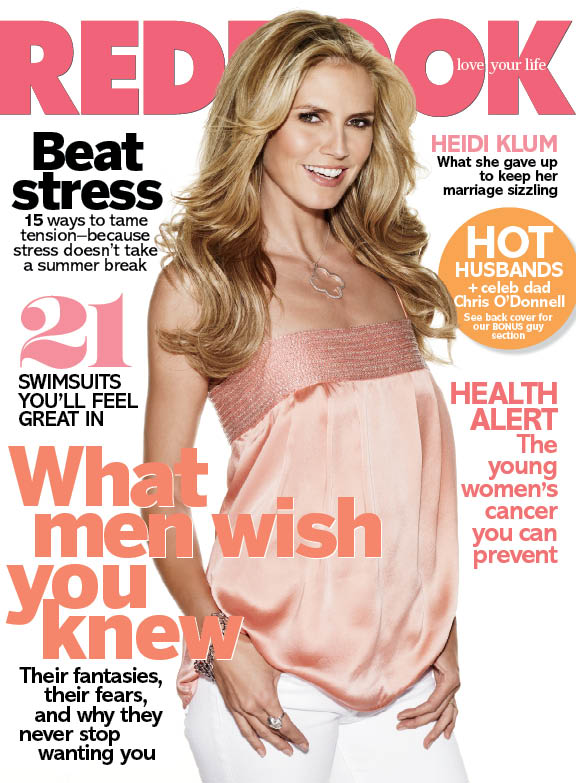 Heidi Klum is the June cover girl for Redbook. The full slideshow is here, but don't be fooled into thinking it's some great photo shoot- it's not. They just use older photos of Heidi out and about at events, and this cover shot is about as good as it gets. Why did they make her look like she's still pregnant? Perhaps they were just hedging their bets? They didn't even catch Heidi after she chopped off her hair into a new mom-friendly bob. Here are some excerpts from the cover article:
On her husband Seal: "I don't know why I got so lucky. I have to pinch myself often and say, "Is this just a dream?" Not only do I love my husband for the obvious reasons (ahem, his sex appeal), but also he is one of the kindest, most loving men I have ever met. He is sexy to me because he is fearless and not afraid to show his emotions. He is a supersexy, hot kisser and…he is sexy to me because he can be singing in front of 25,000 people one minute and, the next, be changing our daughter's diaper…When is he the most sexy and handsome? Hmmmm… in our bedroom."

Seal, on renewing vows: "Each year, Heidi and I get remarried. It's a great party, but for about an hour, we go off on our own down to a private beach. We sit there with the kids and read vows to each other as the sun sets. It's a very special moment to us."

On her marriage: "One thing I think I will always want to be for my husband is not only his wife, mother of his children, and his best friend, but also his "hot" girl who keeps making an effort to be attractive and fun!!!!"

On overcoming obstacles in her life: "I have a survivor instinct. I'm not sure where it comes from, but probably from all the little things that make you into who you are. From being teased, to not being the best at school or skinny enough for the big runway shows in Paris, to being cheated on by boyfriends, to the death of family members and friends… But as they say, what doesn't kill you makes you stronger."

A few happiness guidelines from Heidi Klum:
Don't be afraid of change
Surround yourself with positive people
Smile
And for heaven's sake, toss those baggy sweats!
[From Redbook]
Heidi sounds very nice, and very grounded. Have any of you ever heard the theory that she's a meaner judge on Project Runway when she's pregnant? I think I read that on Gawker, and I think it holds true. She's more "judgy" when she's knocked up. But still, people love her because she does seem real, and she does seem like she's worked hard to make it where she is, and she's grateful for what she has. That being said, I'm not throwing out my sweatpants just because Heidi orders me to. I love my sweatpants more than Heidi. She'll get them when she pries them off of my cold, dead booty.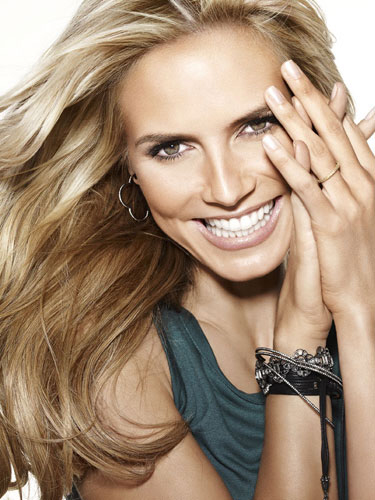 Photos and cover courtesy of Redbook.