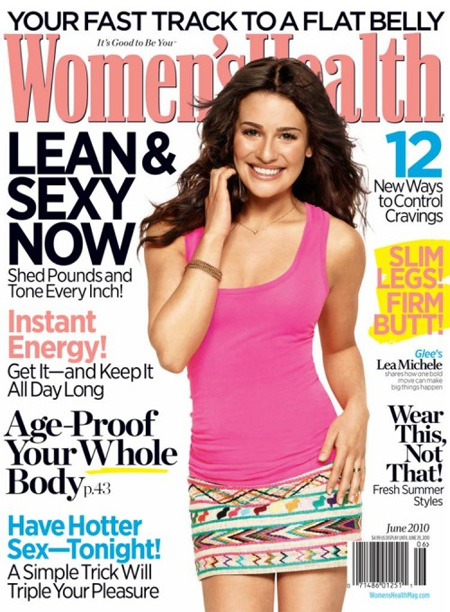 Here is Glee's Lea Michele on the cover of the June issue of Women's Health Magazine. There's no interview excerpts yet, so unfortunately we're just going to have to make do with some recent stories about Lea.
As some know, Lea was named one of Time Magazine's "Most Influential" people a few weeks ago. The big dinner was held last week, and Lea attended, as did people like Betty White, Sarah Palin, Ashton Kutcher, and Prince, amongst many others. According to Page Six, Lea "was not suffering from humility" when photographer Patrick McMullan took her photo at the gala event, then asked for her name. Lea replied "Sarah Palin" and McMullen was like, "No really, what's your name?" Lea tried it again: "Taylor Swift." Allegedly, McMullen then said "F-ck you" and walked away, although some sources don't report that. Page Six did note, however, that Lea "seemed really annoyed he didn't know who she was."
So Lea got called out on a lot of blogs for acting like a don't-you-know-who-I-am diva when, seriously, most people couldn't pick her out of a lineup. So now, days after the event, Lea finally took to her Twitter to apologize/clarify, tweeting: "Big apology to @PatrickMcMullan. Totally didn't expect you (or anyone) @Time 100 to know who I was w/all the amazin people there:)" and "Made a silly joke that didn't go over, so sorry. It was such an incredible night and I was beyond honored and thrilled to be there:)". Ha! Well, at least she apologized.
Am I the only one who is still annoyed by her though? I only know her from random interviews and red carpets, but I don't care for the way she presents herself. She comes across like a pageant girl – all big teeth and fake smiles who will shank you as soon as she gets the chance.
Women's Health cover courtesy of CoverAwards.