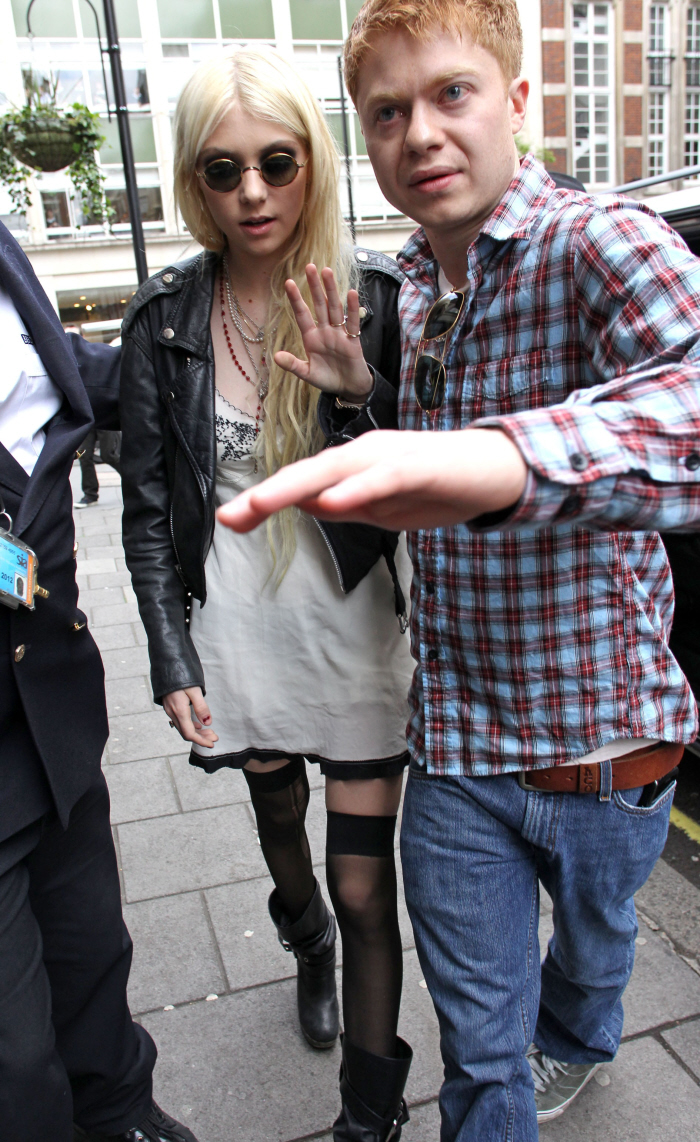 Taylor Momsen has taken her pantless brat act to London, where she seems to be pulling dual-promotional duties for Gossip Girl and her band, The Pretty Reckless. Once again, I'm just going to say it: this girl is 16 years old. Look at her skinny little legs in those trashy thigh-highs! Look how short that shirt/dress is. And it's fair to say that those sunglasses are hiding yet another day spent in raccoon makeup.
Yesterday, Taylor appeared on Britian's This Morning and she talked about whether she would come back next season on Gossip Girl (she wouldn't confirm). She was also asked about criticism about her online and if that bothered her, to which Taylor replied – on live television – "There is if you care but if you do what I do, you just don't give a sh-t… Can I not say that?" She was told "not really" and she replied cheerfully "Sorry!" She's so hardcore. Here's the video of the incident. The on-air sh-t bomb happens at roughly 4:00 in this video:
Once you actually listen to her, it's obvious that she's actually a somewhat bright girl, although misguided, if that's the right word for it. I mean, sure, I was an a–hole when I was 16 years old too. But was I this much of an a–hole? Nope. I end up totally distracted by her eye makeup every time I see her, and it takes away from her half-way decent and mature attitude about fame. Who taught her to do that to her lower eyelid? She must go through a package of eye shadow a day. And what's on her lip? A cold sore? Or a mole?
By the way, a few days ago Taylor "clarified" her recent comments about Kurt Cobain. When asked whether or not she was jacking Courtney Love's look and vibe, she told Entertainment Weekly "I don't wanna be Courtney Love—I wanna be Kurt Cobain. He's brilliant and his songs are genius. The Hole records are great. Everyone always compares me to Courtney Love because they think we like dress the same and we both have blond hair, wear lipstick and dresses. But I'm sorry, don't a lot of girls dress like that? I look at Nirvana. I don't look at Hole." When MTV asked her about that quote a few days ago, Taylor clarified: "Everything is taken out of context. Everyone compares me to Courtney Love. Courtney Love is great, sure, but in all honesty, I'm not trying to be Courtney Love. I would rather be Kurt Cobain, [because] I wrote the record. I'm not either [of them]. I'm saying I would like to be John Lennon, I would like to be Liam Gallagher, I would like to be Robert Plant … should I keep going? You look up to your idols. I grew up listening to the Nirvana records, not the Hole records. And I'm sorry we both have blonde hair and play rock music. That's it." She doth protest too much.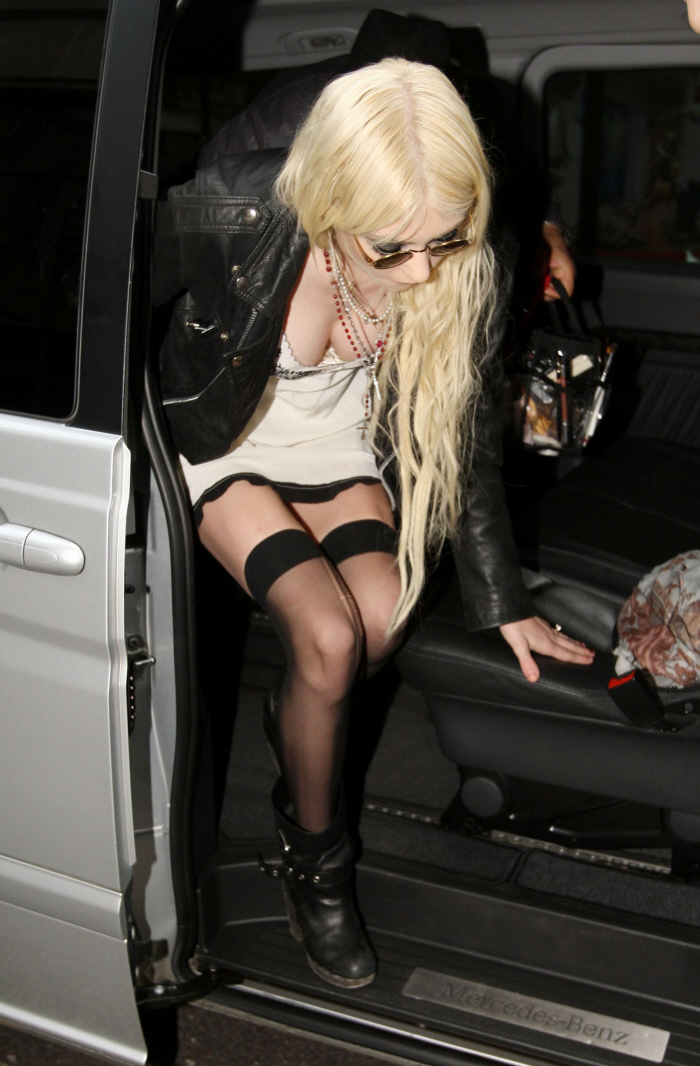 Taylor Momsen in London on May 11, 2010. Credit: Bauer-Griffin and WENN.