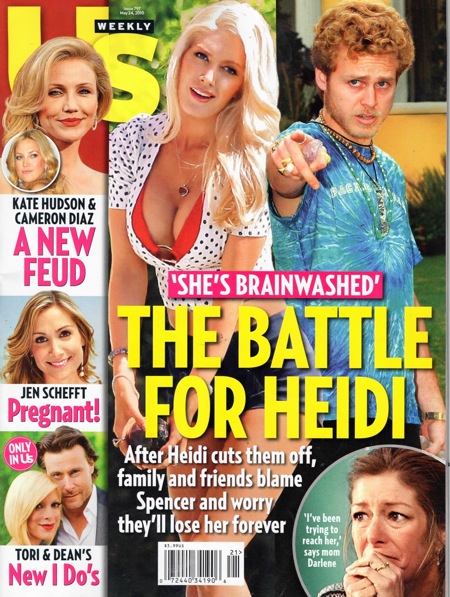 Given all we know about Heidi Montag and Spencer Pratt, it's easy to conclude that they both have mental health issues, to put it kindly. Heidi suffers from body dysmorphic disorder and is searching for elusive self worth through ever increasing amounts of plastic surgery, with the result that she looks like a lopsided cartoon. Spencer is unable to get along with anyone and has admitted to spending $500,000 on crystals, basically all of his money, in order to achieve some kind of cosmic harmony. Heidi has also hired and fired a psychic as her manager.
The latest cover of US Weekly declares that Heidi has been "brainwashed" by Spencer and that friends and family worry they'll "lose her forever." First of all, that would mean that she had a brain to wash, and that she wasn't already lost to her friends and family. US Weekly doesn't have that full story online, but there's a teaser and a related article about a recent episode of The Hills. In response to Heidi's mom's criticism of her daughter's extensive plastic surgery, Spencer spit back in a statement on last night's show "She's not God. She didn't make Heidi. She's just a vagina!" That's priceless. US is also reporting that Spencer and Heidi will most likely not be asked back to tape the final episode of The Hills. They haven't been on set since mid April.
As for Heidi's "brainwashing," US' website tells us to pick up the article for the details. "For more – including how Heidi hasn't spoken to her mom since the premiere; how Spencer has "preyed" on Heidi's insecurities and ruined her self-esteem; Spencer's scary "rage issues" and how pals fear he could "snap at any minute" and how their sad, desperate hunger for fame has left them friendless ("No one ever visits," says a source) – pick up the new Us Weekly today!"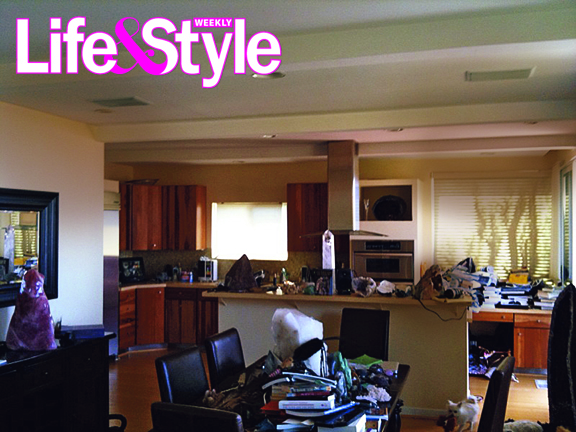 Meanwhile this week's issue of Life & Style, on stands now, has a story that sort-of confirms US' new cover. It's all about how Heidi is staying in a cluttered home with Spencer where he's a shut in. Spencer confirms that he hasn't left the house more than three times in a month, and that some former Marine is living with him helping him write a screenplay. He doesn't admit to trapping Heidi or anything. The best part is the photo of the place, which looks wrecked.
Heidi Montag is trapped inside Spencer Pratt's prison. At least that's how Life & Style is putting it. Pratt is barely leaving the house, and he's making Heidi stick close to his side. Furthermore, he's brought a former Marine in to be their roommate (he's taking up residence in the spare bedroom).

"It's true, I do have a Marine in the house," Spencer told Life & Style. "He's helping me write a script. And yes, we've been out of the house only three times this month, but that's because I'm busy working on several business ventures."
Life & Style goes on to say that the couple is not living in the lavish Hollywood Hills, Calif., home that's featured on "The Hills," but instead is in an "unkempt and unsafe home" in Pacific Palisades.

"The living room is filled with Spencer's mess, which Heidi often has to clean up," according to the magazine. And Spencer lines the window with crystals, which he believes will keep bad spirits out but keep Heidi locked in," according to a source who spoke to the magazine.

Pratt did not respond to requests for comment about the claims.
[From MSNBC's The Scoop]
Is this really true? Is Spencer trapping Heidi inside his apartment while he obsessively hoards crystals and crap, hanging out with some random Marine? It could be. It's probably just as true as the fact that Heidi mangled her face in her sad quest for infamy and belonging. These two are crazy like foxes, but that doesn't mean they're not crazy, just that they use it to their advantage. They earned the cover of US Weekly at a time when we should be forgetting/ignoring them, and that's definitely something. Heidi was just on the cover of Life & Style last week too.
Photo inside Heidi and Spencer's home courtesy of Life & Style. Header image via Cover Awards.