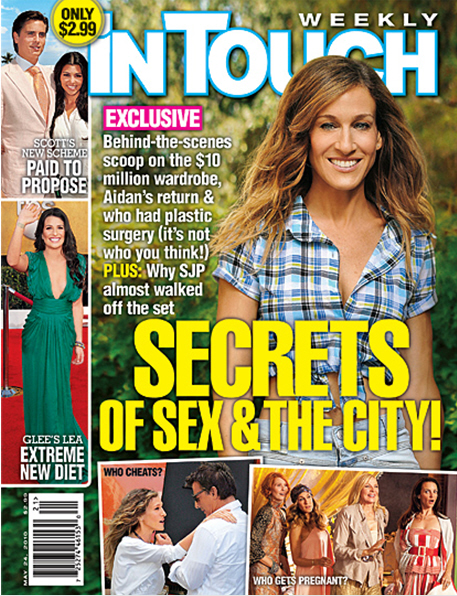 Photoshop much? Sarah Jessica Parker looks cross-eyed on this cover. Anyway, In Touch Weekly's cover story promises reveal to "SECRETS" of Sex and the City 2, but the part of the cover story already released is just a hodge-podge of stuff we've already covered. Like the issue of Sarah Jessica Parker leaving her newborn twins at home while she filmed in Morocco and went shopping in London for two months. SJP already discussed that in her Vogue profile ("I haven't seen my daughters for almost two months, with the exception of Skype, and I have to tell you. I never felt like this.") and in a short interview with Star Magazine ("I have enormous regrets about that. They couldn't travel at the time, because they were too young to get the right shots."). ITW did get this new admission from SJP: that she "came close to walking off the set and flying home." Of course, she did not. And thus, Sex and the City 2.
While her son James was able to fly out and visit her, there were too many health concerns for Sarah Jessica Parker to risk bringing her newborn twin daughters to the set of Sex and the City 2 — and she missed them terribly.

"I never felt like this," she admits. SJP also tells In Touch exclusively that she really "felt the mother-to-child connection."

Confessing that she had serious regrets about signing on to do the film, Sarah Jessica came close to walking off the set and flying home — but she opted to stay.

She had good reason. An executive producer — and a Type-A one at that — Sarah Jessica felt like she had a major stake in the movie. She claims she oversaw "every detail, every atom" of SATC2 — and insiders say she isn't kidding. One SATC2 source says that Sarah Jessica got so involved in the filming, she even helped with some of the wardrobe changes.

And another set insider tells In Touch, "She knew everybody's name on the crew, even before they all knew each other's names. She's a sweetheart, but she's also a producer and she's tough as nails."
[From In Touch Weekly]
I believe she's probably a great producer for the films, although I do think she passively-aggressively made the first film all about Carrie and her issues rather than giving all of the women full character development. And Sex and the City 2 looks like more of the same – more Carrie bullsh-t.
Speaking of, SATC's epic costume designer Patricia Fields spoke about SJP/Carrie's crazy fashion in a new interview, and if Fields climbs any further up SJP's ass, she'll be coming out of her nose. Patricia said: "Sarah moves so beautifully. She has a physical and mental grace, so when you put something on her it looks great because she moves so well. When someone is graceful, you can put a gorgeous dress on them – but if they move clumsily; it's not going to look good. When Sarah walks, her feet don't touch the ground. She could twirl mid-air… I love all of Carrie's trends but I don't like them when everybody's wearing them and it becomes the only thing to wear, like gladiator shoes. I love them, but they became too common."
Here's some of SJP/Carrie's graceful visage, from the SATC set (and one of Kim Cattrall):
In Touch Weekly cover courtesy of ITW online.