Sarah Jessica Parker is a narcissist, a workaholic & a fake feminist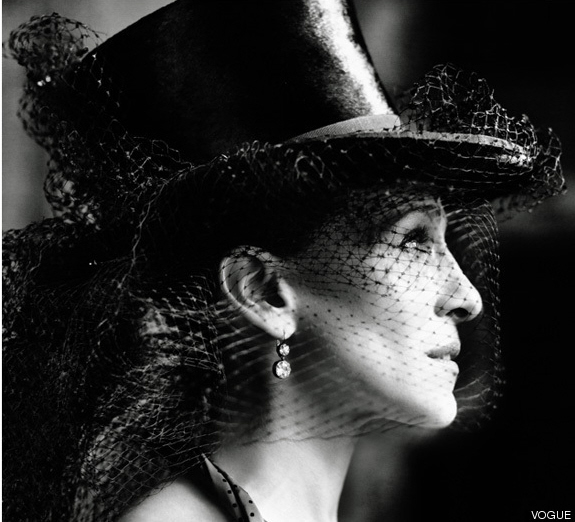 We've already discussed the Photoshop hell that is Sarah Jessica Parker's May cover for Vogue Magazine. I still can't believe that A) Vogue gave her another goddamn cover and B) Vogue thought we wouldn't notice that SJP is Photoshopped into non-horsey oblivion. But I hadn't even gotten to the f-cking article yet. Prepare yourself, because I'm about to go off. This is how the Vogue article begins: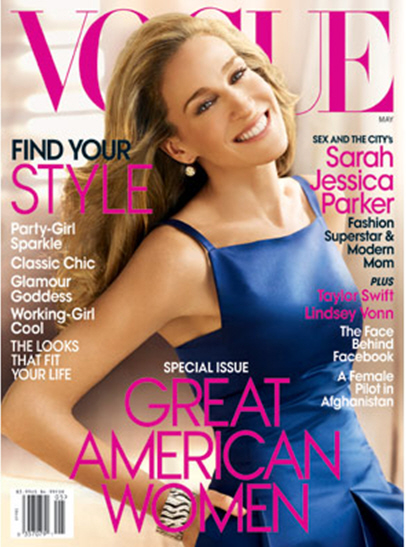 This woman here, poised, polished, and utterly composed in her Dior Haute Couture, is a phenomenally influential force (and driver of merchandise) in terms of culture, fashion, style, and beauty for vast numbers of women in their 20s and up. In terms of her own trade, she changed everything: She turned the twentieth-century American screen heroine on her head. In a black-and-white world with no ambiguity, nice girls were not style icons or sex goddesses. Carrie Bradshaw—as played by Sarah Jessica Parker ("the star next door," in the words of director Michael Patrick King)—is a triumph of the nice girl who, along with her gal pals, has an interesting and occasionally eyebrow-raising sex life as well.
[From Vogue]
Let's stop it right there for one damn minute. Are we still playing this f-cking song? The whole "Sex and the City changed everything for women" song? Because it didn't. It was not a feminist show, these women are not feminists, and the story of Carrie Bradshaw was certainly not "a triumph of the nice girl". It was a show about friendship, about sex, and about consumerism. It was really funny at times, and it had a few heartbreaking moments, and it was mostly good television. But let's stop trying to make the show important or groundbreaking or an iconic feminist milestone. It wasn't. And Carrie is a really horrible, selfish, self-absorbed narcissist, not a "good girl". Ugh.
The interview takes place as SJP has just wrapped filming on SATC 2, so my guess is last December or something. Just to give you context. Here's more from the interview:
SJP on being a mother to her then newborn twin girls: "I haven't seen my daughters for almost two months, with the exception of Skype, and I have to tell you. I never felt like this." They were born on June 22 last year, Tabitha Hodge ("or Babe") and Marion Loretta Elwell ("or Kitty"). "Aren't those great names?" their mom asks, her face split in a grin. "Babe Broderick! Kitty Broderick! It's like it's 1940. I wish it were 1940."

On the surrogate going into labor: She tells of the day Michelle Ross—their surrogate mother, from Parker's home state of Ohio—went into labor unexpectedly. Parker's husband wasn't even home, so it was just she and her son running around the house throwing things into a suitcase. "And I came back into the room and saw James Wilkie combing his hair down in a certain way and standing in front of the mirror. And he doesn't know that I heard him say, 'I have to be handsome when I meet my sisters.' It killed me."

More on the surrogacy: "I tried and tried and tried and tried and tried to get pregnant, but it just was not to be, the conventional way—I would give birth as often as I could, if I could. I cherished all the milestones, the good and the bad." SJP says she and Matthew wanted more kids because "I didn't want [James Wilke] to have to shoulder the burden of us—later in life—by himself."

Surrogacy vs. biological kids: "Meeting your children rather than giving birth to them, it's as if, um, it's—suspended animation. The gestational experience is gone. It's as if everything else disappears for a moment, and the world goes silent and—I can't explain it except to say that nothing else existed. I don't remember anything but the blanket on the bed that they were lying on and my husband's face and their faces and my son's. It's literally as if sound is sucked from the room. Time stands still. It's so different, and equally extraordinary. I am very poor at describing it. But it's amazing."

Matthew Broderick didn't want to talk about the babies: "I think the biggest thing is you can't celebrate something that is potentially filled with joy, nor can you share fears and worries about every checkup, you know—the sixteen-week checkup, the amnio, the this, the that. The bone scan, the nuchal test. And the waiting is different, the whole nine months. We couldn't talk about the fact that we were having children to anybody for soooo long. All the stuff that matters is secretive and worrisome. You can't talk about how you feel about the woman who's carrying your children; you can only talk about it to your husband." She laughs. "And he just doesn't want to talk about it as much as you do."

On the SATC characters aging: "We're still playing—uh, I don't know how old Carrie is! Is she about 42 now? I think Carrie's younger than I [Parker is 45], and Miranda and Charlotte are younger than they are in real life. Samantha was always the older lady, so she's 52 now and talks a lot about what comes with that. In the movie. Talks about menopause. Comedically."

On dressing differently because they were filming in a Muslim country: "[Costume designer Pat Fields] wanted all the characters to be interesting, sexy, all the stories that Pat likes to tell with clothing, but we had religious and environmental and cultural standards to respect," says Parker. "You have to look at clothing and women and women's bodies completely differently. And you start to see how you can still see so much with someone covered. And how exciting that is and how beautiful it is and how draping can be incredibly sexy." They ended up wearing a lot of long dresses, she says (which we'll all have to do soon because that's what famously happens in downturns). "I don't think Carrie's worn a long dress in years; she doesn't really do that. Unless it's whimsy. Or over-the-top couture."

Did the women get along? "What I'm most happy to tell you," says Parker, "is that we four women, despite I guess what a lot of people hope, have never been better. This movie—and maybe it's because we actually lived together—it was the best! We were together all day long, at night, in the restaurants, in our hotels. It was wonderful."

UGH. SJP puts lotion on her son: "Because I really like putting the kids to bed. And when I'm doing a movie, for the first few days of the week I can almost always get home in time to put James Wilkie and my daughters to sleep. If I'm doing a play, I miss all of that." There'll come a time, she knows, when "my son doesn't like us the way he really loves us now. He certainly won't want to have us there and pushing his hair back and tucking him in and putting lotion on his body and the routine that we love. My daughters have a bottle at 6:30 to 7:00 and then they get like a dream feed at 9:30 to 10:00, and I love it."

How many people work for you? "We painted our patio furniture ourselves. I make my children's food myself. We put together their high chairs ourselves; we do a lot ourselves! We do our own grocery shopping, we go to the market ourselves, you know? I do my laundry."

On being named the creative director for Halston: "I came to New York originally in 1976, and then I got this part in Annie. Around the corner from Studio 54. I was a little girl, and for some reason they always invited the cast of Annie to Studio 54, so there I was at thirteen and fourteen, and the doorman would usher us in, literally underneath his arms. And it was 1977 in New York City, and you couldn't be alive and not know the name Halston. There was every reason to say no, and there were very compelling reasons to say yes. It's an exciting time at that company. It has had some false starts that are well documented and it is relaunching itself. It has a wonderful legacy, and I couldn't say no, and I'm…uh, figuring it out."

How will SJP do it all? "Well, there are 42 hours in the day. How many hours are in your day? We'll see how successfully I manage this. I, you know, I don't do movies all the time." As she says of all her professional choices, "Does it scare me? Am I intimidated? Am I challenged? That's kind of the way I've always made decisions. And luckily, the Halston offices are about a ten-minute walk from my house."
[From Vogue]
Oh, isn't she just so real? Barf. This is why SJP annoys me. If she wants to be a working mom, fine and God bless. I don't have any problems with it, and I think she probably adores her children and wishes she could spend more time with them and she really wants to be an amazing mom, but she also loves to work. Which is fine. No judgment. What annoys me is that she wants to put herself out there like Mother of the Year when she basically handed off her newborns to the nannies for several months just so she could make another narcissistic, hyper-consumerism film that we're all supposed to think it the apex of modern feminism. Burn it with fire.
Oh, don't even get me started on how we're supposed to applaud these women for being working actresses not afraid to age in front in the camera – all the while we're not supposed to notice the work they've had done, or the Photoshop hell that magazine use to make them look plastic. Oh, and the thing about putting lotion on her son… creepy. Jesus, after this interview I totally hate her.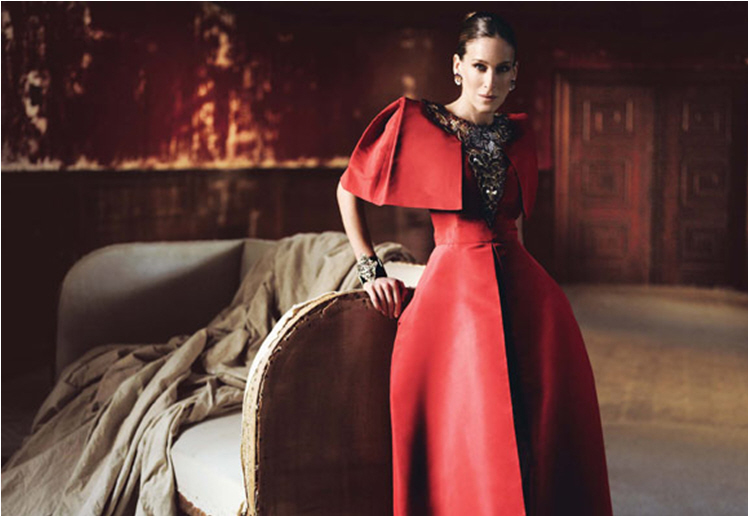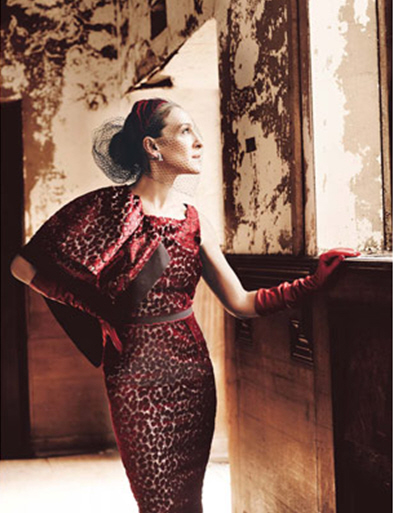 Vogue photos courtesy of Vogue's slideshow.

Written by Kaiser

Posted in Sarah Jessica Parker

- Who butchered the National Anthem? [D-Listed]
- Rob Lowe never ages [Lainey Gossip]
- What is Vanessa Hudgens wearing? [Go Fug Yourself]
- Summer guide to reality TV [Reality Tea]
- Game of Thrones recap [Pajiba]
- Tan Mom's music video [Buzzfeed]
- Amanda Knox is broke [Starcasm]
- Backstage at the Billboard Awards [Popsugar]
- Miley is still stuck in the 90s [Popoholic]
- Blind Items revealed: Adam Levine [CDAN]
- Hugh Hefner bought Crystal Harris a house [Celebslam]
- What happened to Aimee Teegarden? [The Blemish]
76 Responses to "Sarah Jessica Parker is a narcissist, a workaholic & a fake feminist"