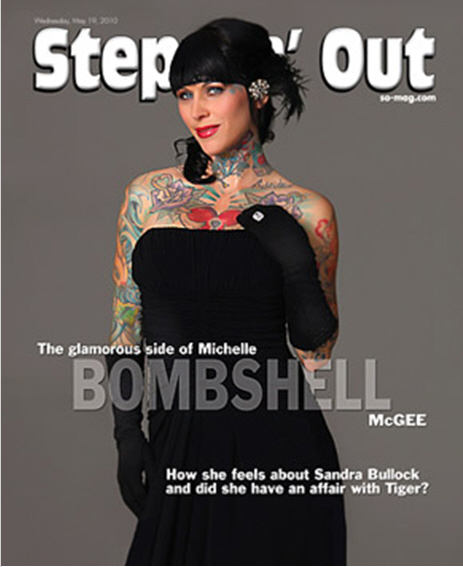 It's already been established that Steppin' Out is the classiest magazine in the world. I finally figured that out when Hailey Glassman did her photo shoot for the magazine, decked out in a pink bikini bottom and a leopard print boob-sling. The editors of the esteemed mag decided to go with the cover line "JUDGE THIS HATERS". That cover line would also work for their newest cover girl, one Bombshell McGee. Unfortunately, I think the styling for the shoot is even sketchier, because I really do think this is what Steppin' Out's editor thinks is palatable. "Let's put the chick with forehead tattoos in a black dress, black gloves and have her tilt her head coquettishly… ALL CLASS."
But I haven't even gotten to the interview excerpts. Bombshell tells the magazine how she really feels about cheating men, and how she still "feels bad about all this other stuff." Aww, she's a victim too, people! Also, she has standards: no fatties. No, not really. Her new standard is "I just don't date liars." Because that was the biggest problem she and Jesse James had together.
Before she had an affair with Sandra Bullock's husband Jesse James, Michelle "Bombshell" McGee thought "if a man cheats it's horrible," she tells the new Steppin' Out magazine.

"Now I think men are made to spread their seed," she says. "Women need to accept that. If you're going to be married to somebody, you need to know that men are not meant to be with one woman. I think you can totally love your spouse and still sleep with other women. That urge will always be there if you're a man. I believe you can love your wife 100 percent and still stray."

McGee, 32, says she feels bad for Bullock, 46, who has filed for divorce from James, 41, and will raise 3 1/2-month-old adopted son Louis as a single parent. But she hopes the Oscar-winning actress isn't hurting too much.

"It should be a happy time in her life," McGee says. "She shouldn't be worried about this. She should be enjoying her time with her baby and celebrating. So I do feel bad about all this other stuff. I'd like to sit down and talk to her over lunch. I don't expect that she would do it though. But having been in that position myself at one time, I would really like to sit down with the "other woman" and have a heart to heart with her. But I don't ever expect her to do it. But I would do it."

As for James, she says she doesn't buy rumors that he had a sex addiction problem ("It's just an easy way to explain why you cheated").

Though she says she "totally fell" for him, "if he wanted me back, I would turn him down. I just don't date liars. He hurt me and he lied to me. We're in this crazy situation right now because of what he did. So right now I would say no. Absolutely not."
[From Us Weekly]
Yeah, I really think Sandra Bullock wants to go to lunch with Bombshell and hash this sh-t out. I mean, come on. I guess Bombshell keeps doing interviews to show everyone how much she's grown from this experience? The experience of boning a married man, then giving interview after interview about that affair, and, oh yeah, being a crude, racist, neo-Nazi. She's growing, I suppose.
Steppin' Out cover courtesy of Us Weekly.