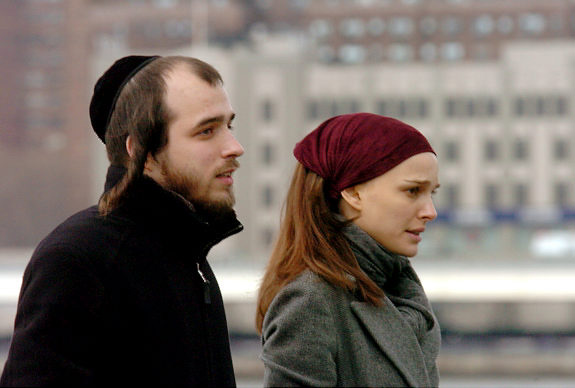 Today the Daily News reported on an interesting story about a Hasidic actor who was forced to drop out of Natalie Portman's most recent movie. "New York I Love You" is a film featuring twelve short love stories. Abe Karpen, 25, had to drop out after being ostracized and receiving threats from the Hasidic community. Karpen is a married father of 3, and works as a kitchen cabinet salesman. It's not clear exactly how he came to be involved in the project, but according to several in the Hasidic community, he should have known better – Hasids are not allowed to watch movies or television, so appearing in them is obviously not a good idea. Trouble first started when Karpen refused to hold Natalie Portman's hand in the film. Portman plays his wife – and he explained that he's not even allowed to hold his real wife's hand in public. Soon Karpen backed out of the film altogether, after receiving much criticism and even threats that his children would be taken out of their religious school.
"I am backing out of the movie," said Karpen, a kitchen cabinet salesman. "It's not acceptable in my community. It's a lot of pressure I am getting. They [the rabbis] didn't like the idea of a Hasidic guy playing in Hollywood. I have my kids in religious schools and the rabbi called me over yesterday and said in order for me to keep my kids in the school I have to do what they tell me and back out," Karpen said.

While news of Karpen's withdrawal sent waves of disappointment through the movie set, the Hasidic community was up in arms over Karpen's acting gig – forcing him to flee for the weekend, a friend said. "This is when I woke up and saw that I made a big mistake. My kids mean everything to me and my community where I live means everything to me," said Karpen, who comes from a prominent Williamsburg, Brooklyn, family.

His longtime friend Levi Okunov said the Karpens had to flee the city for the weekend. "The community wants to kill him," he said. Hasidic community activist Isaac Weinberger said Karpen should have known better. "We don't watch television. We don't go to the movies, so to be in a movie is the worst thing. It's a shame for any Hasid," he said.
[From the New York Daily News]
Karpen did praise Natalie Portman and her acting. He said the two spoke in Hebrew, and Portman told him she wanted to become more religious. He said he didn't even realize Portman was a big Hollywood star. This story is interesting, and it's a bit challenging to comment appropriately on someone's religion. All communities have their own standards, and certainly the Hasidic community's are much more stringent than most of us are used to. Matisyahu, the Hasidic rapper who had a Top 40 hit a few years ago, hasn't seen this kind of backlash from the Hasidic community, from what I've been able to ascertain. However until recently he was with a Jewish record label. To me it seems a little sad that Karpen received this level of backlash for taking the role.