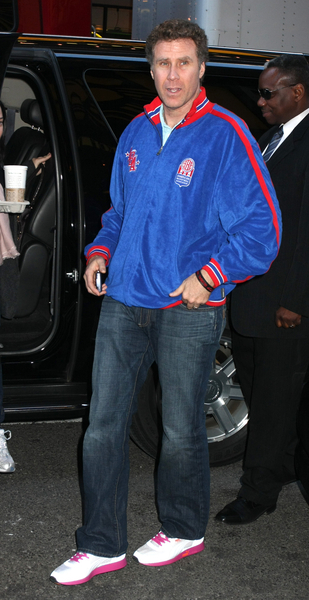 A friend of Will Ferrell's who works as a struggling actor recently got married. According to Mike Walker's column in the National Enquirer, Will arranged for a scam to get the guy and his new bride a first class European honeymoon without letting him know that Will was footing the bill. He set it up with the actor's agent to tell him he had an audition in Paris and that all expenses would be paid. Then they told him the audition was postponed for a week, then moved to Rome. Once a few days passed in Italy with no audition, the guy called his agent and was told Will had arranged for his vacation:
Knowing his just-married pal would never accept a big cash wedding gift – or anything that smacked of charity – Will staged a scam a con man would envy! First, he had the guy's agent call with good news: He'd landed a movie audition in Paris – and could even take his wife with him, courtesy of the producers. "The script will be waiting for you at the hotel," said the agent. After Will's pal and his new bride arrived in Paris, the agent phoned and said: "The audition's postponed a week, so just stay and enjoy the city!" Five days later, another call: "The audition's been moved to Rome. They're sending over plane tickets, and you'll find a revised script at your hotel." Finally, after days in Rome and still no audition, Will's friend got suspicious and phone his agent, demanding to know what was up. That's when Will finally contacted his old buddy – and told him the truth: There'd never been a movie audition! He just wanted him to enjoy a great honeymoon without sweating the dough. Touched and teary-eyed, the guy couldn't stop thanking Will, who cracked: "Hey, don't kid me – you're just bummed you're not getting the movie job!"
[From The National Enquirer, print edition, Mike Walker's column, March 24, 2008]
That's a great story, but it sounds like one of those "too good to be true" tales of celebrity heroism that Walker loves to write. If it's true, it's a very inventive way to give someone the gift of a lifetime and that was generous of Ferrell. Maybe the poor guy was sweating his upcoming audition though, and the more time passed on that sweet free vacation the more pressure he felt about the film role that never materialized.
Ferrell's latest film, the 70s pro basketball comedy Semi Pro, was a disappointment at the box office compared to his other blockbusters. It was released on February 29 and has taken in $33 million total at the box office, which brings it below his other comedies like Talledega Nights and Blades of Glory, which each earned more in their opening weekends than Semi Pro has to date. Ferrell will next appear in Step Brothers with John C. Reilly, which is due for release in July, and is currently filming Land of The Lost.
Will Ferrell is shown on 2/25/08 outside of MTV's TRL, thanks to PRPhotos.