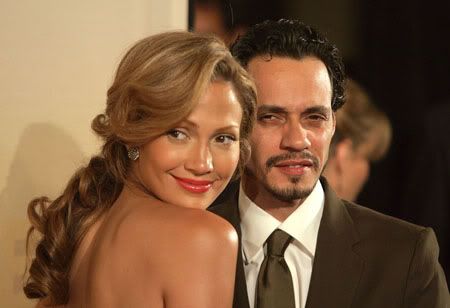 Marc Anthony took out a bizarre ad in Variety, declaring his love for J.Lo in the format of a film script:
The crooner spent the money to honor his wife Jennifer Lopez, who picked up a 2006 Women in Film Crystal Award Tuesday night in LA.
The ad appeared in Tuesday's daily edition of Variety, which charges $8,000 for a full page ad. The ad was written like a movie script, outlining a scene at an award show, describing Lopez as "the most beautiful woman" and "Lola."
This is our theory, and we have reader Angelika to thank for the insight: something is totally wrong with Marc Anthony. He looks deathly ill, with bags under his eyes and a sunken face. We think he's suffering quietly from an illness and wants to let Lopez know in the most public way possible that he loves her. Doesn't this seem like the type of thing a dying person would do? He says "Here's to never waking up, Baby," in the ad, which could be a dual reference to the dream-like state of love and death. Unless their two year marriage is in trouble, which would be completely uncharacteristic of J.Lo, it seems like the most plausible explanation.
We're oversensationalizing this story, though, because there were three other ads from studios praising J.Lo in that issue of Variety, and Anthony probably just wanted to add his loving regards.