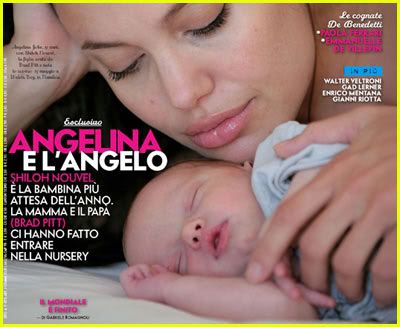 Thanks to reader Millie for e-mailing me to let me know that I'm not Obsessed had the Shilloh baby pictures that are coming out in People and Hello!. Unfortunately they had to be taken down, but we're under the radar for now and found them on the Saving Face Forum. This family is so cute that we feel sort of bad questioning Shiloh's parentage.
In the press conference with Brad yesterday, Angelina dismissed claims that she may marry the supposed father of her newborn baby, saying that they are committed to their children, but that "to have a ceremony on top of it is nothing." Getting married is nothing indeed, Angelina, especially when you have no plans to do it.
These photos are from Italian Vanity Fair.
Update: higher quality images thanks to CelebVent and originally from JustJared.