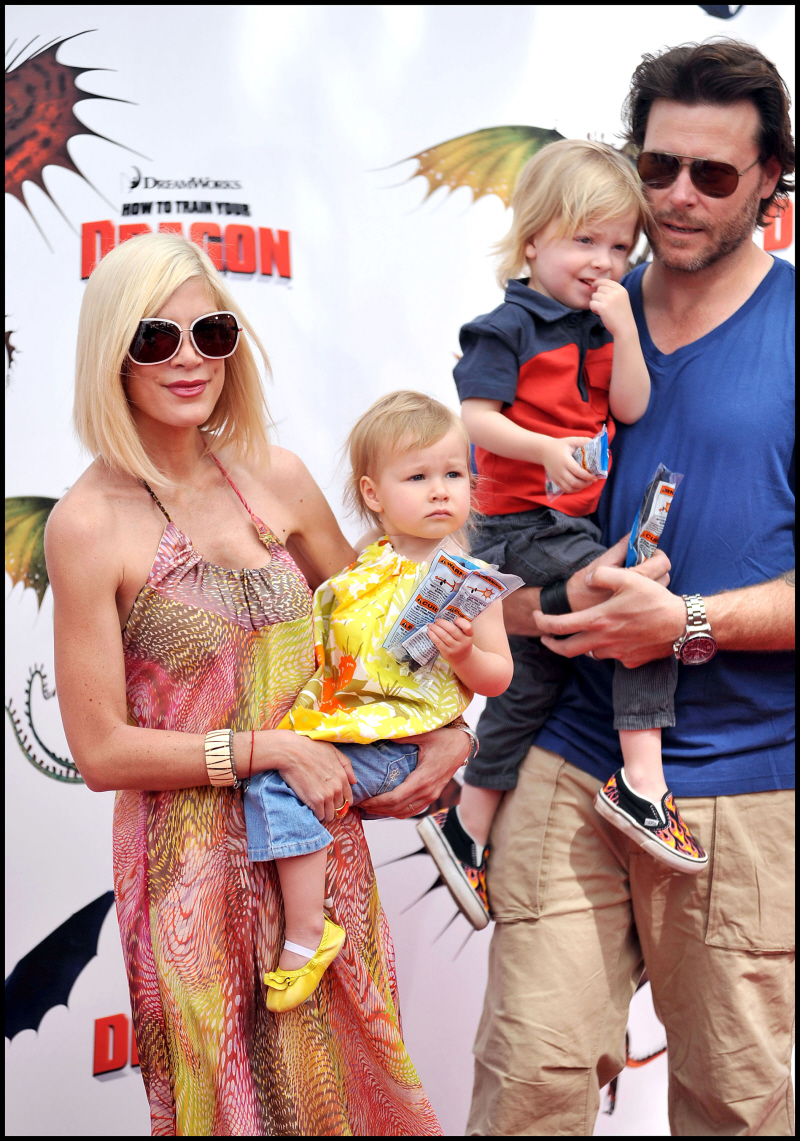 This week's US Weekly has the exclusive pictures and details of Tori Spelling and Dean McDermott's recommitment ceremony after a whole four years of marriage. I wish we could publish them here, because there are hilarious photos of tiny "starved to perfection" Tori in a poofy "Marchesa bridal mini" that cost $3,500. It was basically a strapless mini dress that hit well above mid thigh and had a puffy tulle skirt and bodice. She must have been playing with one of her daughter's Barbie dolls when she got the inspiration for her "gown," which wouldn't have been out of place at an eighth grade formal.
Both Tori and Dean were married to other people when they met on the set of a Lifetime movie they were working on together. Tori was married for just a year and Dean had been married for 12 years, had an 11 year-old son and was in the process of adopting a baby with his wife. His ex-wife, Mary Jo Eustace, has been open about the fact that she was blindsided by Dean's relationship with Tori. She even gave a first person account in a recent book detailing how Dean coldly dumped her after knowing Tori just three weeks.
Last year Tori told US Weekly that she had an instant love connection with Dean when she first saw him, and described it "like a million blocks of hearts just fell on me" and added that she knew he would be her soulmate and father of her children. Whatever Tori and Dean did to their partners they're justifying it by claiming their relationship was somehow fated.
When describing her second wedding (the first one was supposedly "private" on the beach in Fiji, but Tori sold the pictures to People) Tori explained that she put mementos around the event that were significant to her. There was a tower of shoes in lucite cubes that she called "shoe art," along with a book about June and Johnny Cash, who she called an inspiration. Here is Tori is in her own words:
We started planning it a month ago. I knew I wanted to make it everything Tori and Dean. The accessories reflected our passions – Dean loves motorcycles and scuba, and I'm all about shoes and jewelry. And I scattered vintage books that were related to us, like one on Johnny Cash. He and June Carter were an inspiration – a couple that were both married before and then found each other.
[From US Weekly, print edition, May 24, 2010]
You can yell at me now for not yet having seen Walk The Line, but didn't Johnny Cash cheat on his wife before June multiple times? How is that inspirational? Yes they were married 35 years and died a few months apart and that's something. I just don't see Tori and Dean going the distance, but I could be wrong.
As for the recent fighting between Tori and Dean that was aired on their show (video is below), they explained that they're working out their issues.
You and Dean have had some rocky patches as well. Tori even said, "I want the old Dean back."
DM: That ripped my heart out. I had started to create distractions to not deal with what was going on with me. I had, for lack of a better word, a rough upbringing so there are things that I need to address – but I'm on that path of figuring these things out.

TS: Dean lost his mom at an early age. He hasn't always felt that he deserved ultimate happiness. So now we started an open line of communication to deal with these issues. But I always knew we were going to make it because we are committed to each other as soulmates.
[From US Weekly, print edition]
It doesn't matter if you're married to your soulmate or not if you can't communicate effectively. I wonder if Dean's ex Mary Jo ever sees these clips and thinks "thank God I don't have to deal with that a**hole's sh*t anymore."
Oh I can't end this story without mentioning that Tori and Dean got married in a small sandbox with their kids playing at their feet. It was a kind of homage to their 2006 wedding in Fiji and I can't decide whether I think that's dumb or cute. If another couple did it, it would be cute, but with Tori and Dean there's the taint of smug entitlement over everything they do.