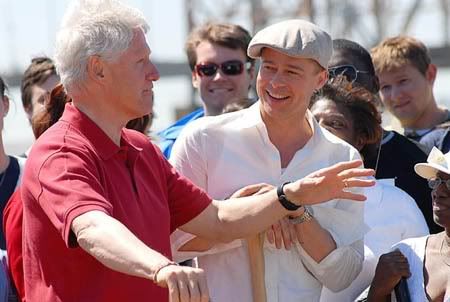 Former President Bill Clinton and actor Brad Pitt broke ground for the Make it Right project in the Lower 9th Ward of New Orleans. The Make it Right Project is building 150 green homes for New Orleans residents affected by Hurricane Katrina, and Pitt states that it's "not about a handout, but a hand up."
Pitt has contributed $5 million dollars to the project along with real estate developer and film producer Steven Bing. Bill Clinton was there to represent the Bush-Clinton Katrina Fund, which has contributed $1 million. Former President George H.W. Bush was not able to attend the ceremony.
600 students from around the world were also on hand to volunteer and help clean up. They were there are part of the first meeting of the Clinton Global Initiative University. The meeting was held at Tulane University and hopes to gather student and university staff to help address the world's problems.
Brad Pitt looked dashing in his trademark newsboy cap and a white dress shirt with jeans while President Clinton wore a red sleeveless polo and brown pants. Pitt vowed to stop wearing that hat for New Year's but doesn't seem to have been able to get rid of it. He was said to be selling the hat to benefit the charity, but currently the only hat available on the MakeItRightNola website is a baseball cap. You can't blame Pitt for trying to hide that crew cut he got for his most recent part.
Story details from PRNewswire. Thanks to Splash News for these pictures from Sunday.