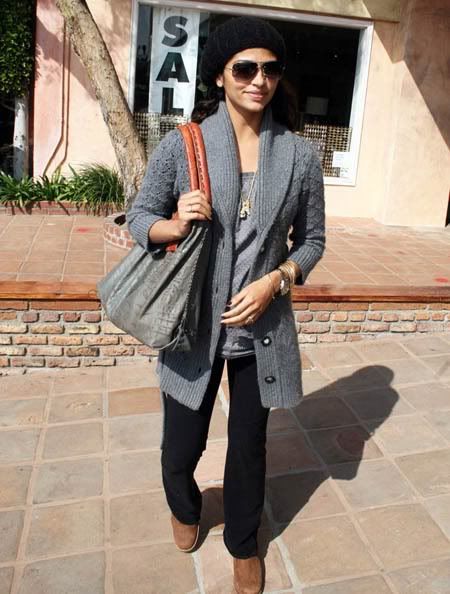 Matthew McConaughey's gorgeous pregnant girlfriend, Camila Alves, seems to share his lackadaisical approach to personal hygiene. McConaughey is known for going au natural and has not worn deodorant in 20 years. He told Playboy magazine that he refused to put on a rock crystal deodorant that his costar Kate Hudson tried to get him to wear while they were filming Fool's Gold.
Now In Touch is reporting that part of the reason that Matthew loves his pregnant girlfriend, Bralizian model Camila, is because she can also go without a shower for a week. Lest you think they're making that up, it's an actual quote from one of Camila's business associates on her new handmade leather purse line:
"He said he finally met a girl who can go without a shower for a week – someone he can go mountain climbing and hiking with," Pamela DePalma, president of DePalma Enterprises, which represents Camila's new venture MUXO handbags tells In Touch. "Camila is incredibly easygoing."
[From In Touch, print edition, March 24, 2008]
Camila's business associate also says that it was McConaughey who first noticed Camila and asked her to have a drink with him.
"He chose her, she didn't chose him," she adds. "She was at a restaurant in LA and he walked up to her. He introduced himself, and said he would love to have her come join him for his favorite drink – a margarita – and they had a great friendship to star."
And In Touch also talked to Camila's manager, who hinted that a surprise marriage might be in the cards for the stinky sweethearts:
But with the baby due in July, the couple have no been talking about tying the knot. Camila's manager, Shabi Shahryar, tells In Touch: "You never know. I mean, the pregnancy was a surprise, so why not a surprise marriage?"
McConaughey is excited to be a father and is serving as Camila's Lamaze coach. He says he's going to be a hands-on dad and will change diapers. It sounds like their child won't be forced to take a bath as often as the average kid, and he or she will probably be grateful for that. I know that my son hates getting his hair washed and will do just about anything to avoid it.
You can see Camila's new handbag line, Muxo, at MyMuxo.com. They're all hand crafted by Camila and her mother and take from 5 to 8 hours each to complete. Pricing starts at $450 for a clutch. Camila is carrying the "crock" bag in the header image, but it's made of leather, not crocodile. [No one paid or encouraged us to write that]
Camila Alves is shown outside a spa appointment on March 1, thanks to Splash News.