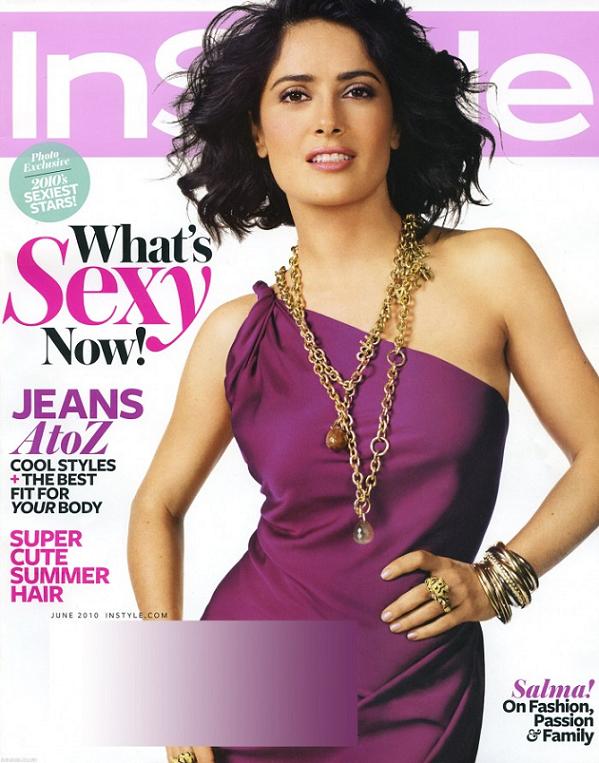 Salma Hayek is at the Cannes Film Festival, living it up and partying, showing up to various red carpets decked out in gowns and jewels and wearing her favorite accessory, her billionaire husband Francois-Henri Pinault. There's even buzz about Salma making some kind of career-comeback, but we'll see. Meanwhile, Salma is the June cover girl for InStyle Magazine, and in the interview she spoke about how her daughter Valentina asked her to change her name to Pinault, and how Valentina is the reason Salma won't be going into space anytime soon:
The Mexican beauty welcomed a daughter, Valentina, with Francois-Henri Pinault in September 2007, and married the French fashion executive 17 months later. But the tot was becoming curious as to why her parents didn't share the same last name – and the innocent question convinced her mum to make the switch.

The actress tells U.S. magazine InStyle, "It was Valentina's request. I didn't think about it until she brought it up. We were shooting a film, and she saw my chair with my name on it. She says, 'What does it say there?' And I said, 'Salma Hayek.' And she said, 'What about Pinault? Why not Pinault?' Because people here (in France) say 'Madame Pinault.'"

And Hayek is thrilled to show her solidarity with her family as she continues her new life in France.

She explains, "I said to myself, 'This is who I am now. I'm starting a whole new life. I've never been happier. Why shouldn't I share it with the people who have been supporting me my whole career, who have been with me since the beginning?'

"I'm a private person, but I should let them in on the fact that I'm a different person, and a better person. It's a new life."

The actress insists she's "not much" of a risk-taker since she welcomed daughter Valentina in September 2007, with her husband, French fashion executive Francois-Henri Pinault. And she's given up many dangerous thrill-seeking adventures – including a once-in-a-lifetime chance to orbit the planet with the Virgin boss' spaceliner, due to launch next year.

She tells U.S. magazine InStyle, "I love scuba diving and used to dive where the sharks were, and now? No more sharks. Everything became about the baby. You are in second position, or third… My dream was to go into space. I reserved my place with the Virgin (Galactic) expedition. And then I got pregnant. And now I'm a mother. So I'm not going to go."
[From Hollywood.com and The Toronto Sun]
CB generally thinks Salma is full of sh-t and full of herself, but I've always had a haphazard love for Salma. Yes, she's full of herself, but she seems like a throwback to the movie stars of the 1940s and 1950s, the goddesses who had reason to be full of themselves. Personally, I don't buy that Valentina – at the age of 2 years old, if that – would be all "Mommy, why didn't you take your husband's last name?" Like she's a little Miss Manners or something. I think Salma took the Pinault name because she married a f-cking billionaire and why the f-ck not?
Here are some assorted photos of Salma at Cannes:
InStyle photos courtesy of ICYDK.