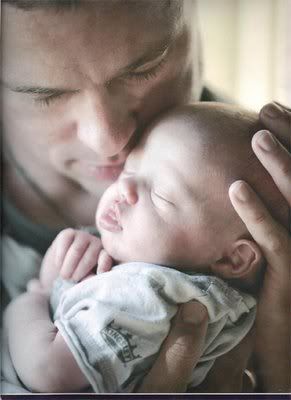 TMZ reports that preparations are in high gear at Brad Pitt's $9 million Malibu estate for the famous family's return to the states this weekend. A van full of liquor pulled up on Wednesday, the secuirty system was upgraded, and the tennis court was covered again to create a large play area for Maddox.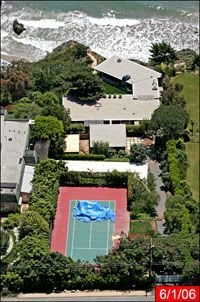 The $9 million Malibu estate has been buzzing with workers this week. They're finishing off the security system, which includes an elaborate set of cameras pointing in every direction.
Most telling, TMZ is told that yesterday a white van arrived at the house and delivered a "massive amount of liquor." As one eyewitness says, it was: "magnums of everything."
The word from the crew is that the famous couple and their kids are arriving this weekend. A cleaning crew has been working feverishly this week and construction workers have been there seven days a week.
As one eyewitness tells TMZ, the entire house is set up for kids. Before the couple left for Namibia, the tennis court was tented and converted into a giant playroom — especially for Maddox's 4-wheel toys. The party tent was taken down after they left, but this week it was put back up.
As for accommodations in the four bedroom house, Brad and Angelina have the master suite, and each uses a bedroom for an office. That leaves one bedroom left for Maddox, Zahara and baby Shiloh. We're told there is baby furniture in that fourth room, but the word is that Shiloh will sleep in the master suite with Brad and Angelina.
The joke at the house is that all of Brads expensive art is now up, along with his other pricey furnishings and everyone there "is wondering what he's going to do when the kids start destroying it."

We're told there will be a heavy presence of guards 24/7, but there's still a problem. It's a glass house — literally — and the paparazzi have a clean view from the ocean, where they often kayak. A solution to this issue has not been figured out yet.
In terms of the glass house offering a clear view from the ocean, there will probably be a tarmac put up to block the paparrazi just like at the Burning Shore Resort in Namibia.
The best part of the story is the fact that Brad and Angelina plan to have Shiloh sleep in the master bedroom with them. It's a lot easier on mom and dad to have a newborn in the same room as they can respond quickly when she wakes to nurse, and everyone will get more sleep. It also sounds sweet and like they are loving parents.
This news seems accurate, because Brad and Angelina admitted during their Namibian press conference that they planned to return to the states within a few days. It should be a lot more comfortable in California for Brad, who was said to be fed up with the heat and seclusion in Africa. Will Angelina be content to stay in Malibu with her new family? We doubt it. Once Shiloh is a little older she's bound to hightail it to France.
TMZ also has a video of Brad and Angelina's press conference. Angelina talks about moving to Africa, International Refugee Day, and their donation to Namibian hospitals. Brad doesn't say anything and is out of the frame until the end, when he kind of smirks and then catches himself and tries to look serious. She is pretty good at talking to the press and he seems content to let her do her thing.