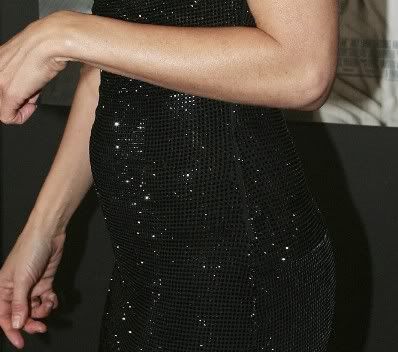 Thanks to Girlzilla at Oh No They Didn't for pointing out that Aniston's got a bump! It would be just like her to go and get pregnant out of spite.
Is she just slouching or could she really be having a Vaughn spawn?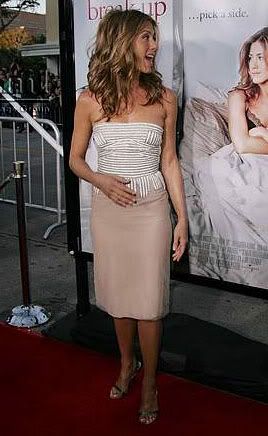 At first I didn't think this was true – then I looked at the HQ photos. I really believe she's knocked up. My husband looked at these photos and said "She's at that age where she's getting desperate."
She wore a tight dress to the Australian premiere of "The Break Up" on June 5th, so she's not doing anything to try and hide it.
Aniston seems indifferent about having children. Although she says she wants them eventually she balked when asked by Regis if she ever babysits Coco Cox, Courtney's daughter.
Aniston's supposed boyfriend, her "Breakup" costar Vince Vaughn, told Oprah that he hasn't talked about children with Aniston and that it's a big deal for him:
"No, I have not talked about having kids with Jennifer," he says. "I think [having children] takes a lot of focus, takes a lot of attention. I think it would be nice at some point to have a different priority in something else as you've sort of done stuff and challenged yourself, I think that time would come. But not any time in the near future for me, I don't think."
We commented at the time that it sounds like Vince wants kids, just not with Jen.
Here are high quality images thanks to Hollywood's Best from "The Break-Up" Australian Premiere on 6/5, press conference on 6/6, Chicago premiere on 5/29 and LA premiere on 5/22. She has a definite bump at all of these events.
For comparison, the last row has pictures of Aniston outside "The Late Show" on 5/24. Her stomach is perfectly flat there, so there is a chance that she is bloated in the other pictures. The woman is thin and toned though, and the bump is pretty pronounced, so we are inclined to think she's pregnant.