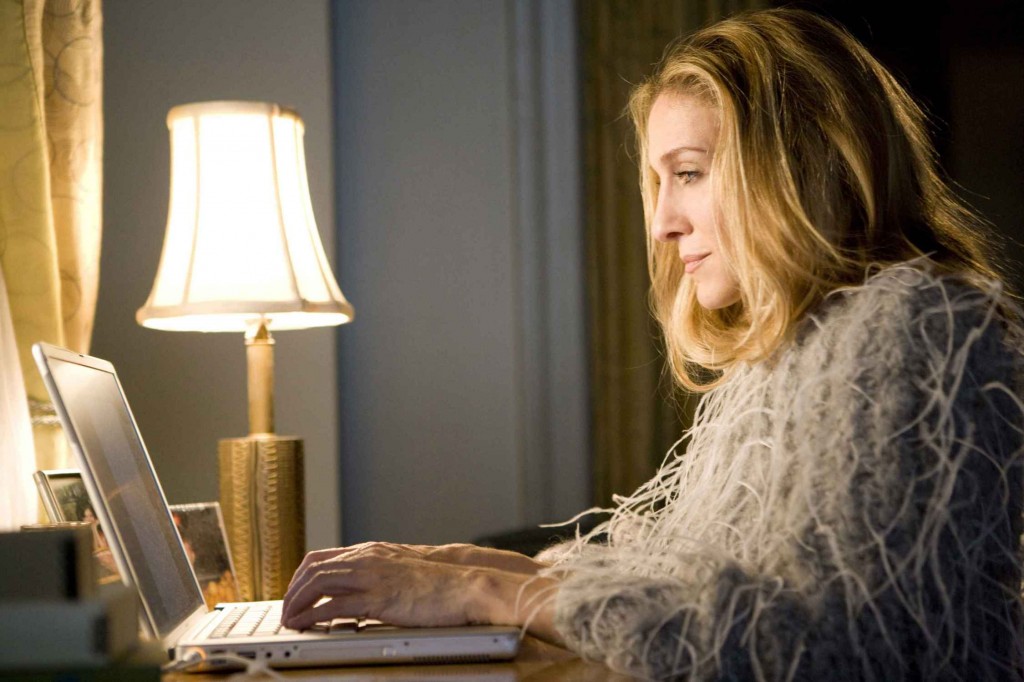 Carrie on a Mac in the first film and advertising an HP PC for the second, below
The first Sex and The City movie was full of references to specific brands and companies. Some of the products were long running and integral to the show, like the high end Manolos and Jimmy Choo heels that Carrie sunk all of her money into, and the Mac laptop she used to write her column. The film had all of the trappings but none of the heart of the series, which had its superficial moments but focused more on the characters and their relationships. In the big screen version, the characters were secondary to the overpriced designer brands. The lead character made a major life decision based on retrieving a pair of expensive shoes. It was hard to tell which brands were there as paid product placements and which were necessary for the very thin plot, which was about as rewarding as credit card debt sunk into luxury goods. Ask Lindsay Lohan how that feels.
Vanity Fair has an extensive list of all the brands plugged in the first movie, and it's mind boggling. At least some of it was just for context, though it all kind of ran together. (NY Magazine even marveled that they were included without payment.) That's got to be an advertiser's dream. Carrie's Macintosh, for instance, was just part of the show and couldn't be replaced. It's not like Carrie could switch up her Manolo Blahniks for Stuart Weitzmans. They're both decent shoes but they have quite a different style profile. Carrie isn't much more than a collection of brand affiliations and you take one away it's like you're changing the character.
Thanks to a partnership with Hewlett Packard, Carrie will be working on a PC in this next film. (Apple claims that they don't pay for product placement.) PopEater has a great editorial about how wrong this is on several levels. When the film is all about brands it's particularly jarring when they abandon an integral one for cash. It screws up the Sex and The City brand, too, not that it means anything beyond label whoring at this point. Here are some excerpts from Popeater's article:
Fans of 'Sex and the City' have come to expect certain things from the hit TV series-turned blockbuster movie franchise, and seeing the ladies wear and use brand name, big label products is one of them. We all know the girls love to strut around Manhattan in Manolo Blahnik shoes, eat at the fanciest restaurants in New York City and wear only top designers like Dior, Chanel and Roberto Cavalli. And we're certainly used to seeing our heroine, Carrie Bradshaw (Sarah Jessica Parker), typing her newspaper columns and books on her Mac laptop — you know, the one she left on her bed for Charlotte (Kristi Davis) to find when she left for Paris, the one she returned to when she came back to her beloved New York.

Carrie's Mac made an appearance in just about every episode and was prominently featured in the first movie, but you won't be seeing it in 'Sex and the City 2.' Because of a partnership with Hewlett-Packard, only HP computers will be featured in the forthcoming sequel.

According to the New York Post, "Every aspect of Carrie's life is reduced to a vignette that can be monetized: Going to the Gym (sip on Lipton Sparkling diet green tea, an official sponsor of the new movie!), Having Cocktails with Girlfriends (try a specialized cocktail from Skyy, the movie's 'official vodka'!), Getting Married (Swarovski paid to be featured prominently in the film) and, of course, Working On Laptop, Staring Wistfully Out the Window (Hewlett-Packard partnered with the movie so its laptops would be featured, and SJP will appear in the computer company's ads, of course)."

But fans of the show know that Carrie and Mac were made for each other. The Guardian UK sums it up best, noting, "Carrie is a professional homeworking journalist … Macs were invented for them: people without IT support, with no skills or office training, with very little likelihood of ever accruing any knowledge or expertise, with no backbone or basic housekeeping procedures."

That's Carrie Bradshaw in a nutshell; she didn't even have a cell phone until the shows final season in 2004.

Carrie's Mac was even a subplot for a season four episode — 'My Motherboard My Self' — in which her computer, overloaded from years and years of use (and no backing up!), crashes when she goes to save one of her columns. Aidan (John Corbet), just trying to help, buys her a new iMac, which quickly becomes a symbol for change that Carrie simply isn't comfortable with. [Celebitchy note: that video is below]
[From Popeater]
Doesn't Sarah Jessica Parker look like a walking skeleton in that top commercial for HP? It's hard to look at just her body without a head, and maybe HP should have veered from their regular format for this ad. I know it's petty to point that out, but I can't help it.
I'm a PC person, but this really annoys me. I haven't been looking forward to the Sex and The City sequel and this news kind of pushes me over the edge. I doubt I'll see it in the theater.
Thanks to Popeater for this story and the videos.