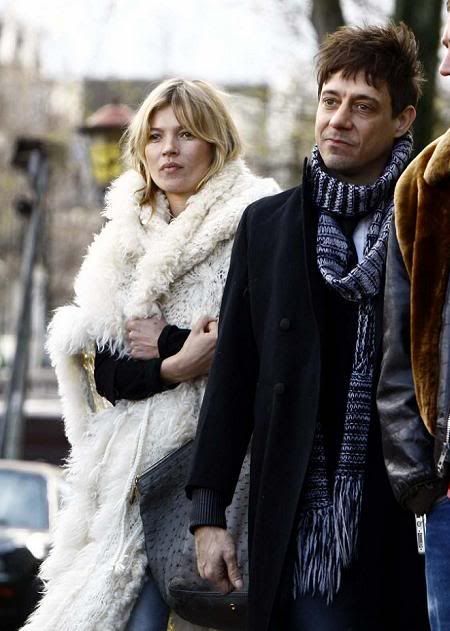 Thank goodness Kate Moss has found someone to love. And hopefully someone to force-feed her, take away her drugs when she's angry, and occasionally pump the alcohol from her stomach. Kate is supposedly engaged to her boyfriend of about nine months, The Kills guitarist Jamie Hince. According to The Sun and the Daily Mail, Hince asked Moss to marry him during a romantic (and presumably totally sober) vacation in Amsterdam, which resulted in Moss yelling to everyone on the street that she was getting married.
Kate Moss is set to wed her rocker boyfriend Jamie Hince, it has been claimed. The supermodel reportedly told fans the pair were going to 'get married' as they enjoyed a trip to Amsterdam. Moss, 34, blurted out the news as she and 39-year-old Kills guitarist Hince emerged "grinning" from a bar in the city. A source told The Sun: "They were looking very loved-up. Kate was so excited it looked like she had just accepted his proposal there and then. She was very happy. She came out giggling and seemed a little bit tipsy. Lots of fans were taking her picture on their mobile phones. She told them, 'I'm getting married'." The source added: "One girl asked her when, and she said, 'Soon'."

Kate also reportedly talked about her marriage plans to a unnamed fashion journalist she met in the city's Cafe Tabac. Last night, Moss back in London and hanging out at her favourite haunt, Claridges hotel. There was no sign of an engagement ring but the model was wearing her lover's trademark scarf.
[From the Daily Mail]
I know very little of this Jamie Hince, but I know he's not Pete Doherty, and that's really all I require of Kate Moss anymore. Really this guy could be quasi-evil and he'd still be a huge step up. Kate Moss is pretty infamous in London for her hard partying lifestyle. There's always a chance marriage might calm her down a little… though having a daughter didn't seem to accomplish this (apparently massive) feat. Kate's mother lives with her and takes care of her granddaughter. Hopefully this is the real deal for Moss; she nearly married Pete Doherty half a dozen times, including a few occasions where he didn't show up because he'd been arrested. Let's hope she's picked better this time and has found someone who can actually find his way to the church.
Here's Kate Moss and Jamie Hince with some friends in the street of Amsterdam on March 25th. Images thanks to Splash.