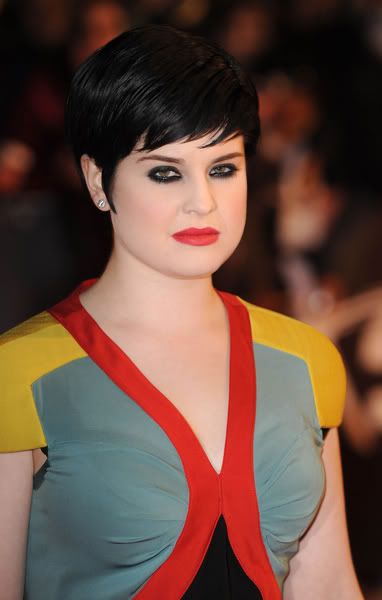 Those Osbournes never know when to keep their opinions to themselves. Actually I don't think they've ever even heard of the concept. But once in a while one of them makes a surprisingly good point, which hallways throws me a bit. Kelly Osbourne has come under fire for criticizing the Spice Girls for bringing their young children on stage during their performances on their recent tour. And she actually makes a bit of a good point.
Kelly Osbourne has lashed out at the Spice Girls for showing off their kids onstage. The outspoken reality TV star, whose own mother and father Sharon and Ozzy have often come under fire for their parenting skills, has offered her own family tips.

The 23-year-old admits she admires Gwyneth Paltrow's celebrity parenting, but the Spice Girls are at the bottom of her list. She explains, "I respect Gwyneth Paltrow because she covers her babies' faces – she never lets the paparazzi get that picture.

"I'm not going to put the Spice Girls down, but they took their kids on stage at every single show of that last tour of theirs. To be a child of three and have 25,000 girls screaming at you – I don't think that's necessarily good."
[From Hollywood.TV]
Kelly actually makes a decent point, and she says it in a fair way. She's certainly not "lashing out." While I'm not really a fan of Gwyneth Paltrow covering her kids faces – I'm afraid that might give them some kind of weird shame complex – I could see how the Spice Girls bringing their kids on stage every night could be seen as a little exploitative. While it made news everywhere that three-year-old Cruz Beckham had some major break dancing skills, bringing the kids on every night to perform might have been a bit much. On the one hand it's cute to watch, but on the other I couldn't help but feel it was a little put on. Both Melanie Brown and Geri Halliwell brought their babies onstage as well. From other videos it appears that the kids are wearing earphones to block out the screams, which is good and shows their parents are taking their health into consideration. But it somehow seems like they're trying to profit off their kids. Hopefully they all enjoy it and are having a good time, but I think in this one instance, Kelly Osbourne actually makes a good point. Now let's see if she has anything to say about her own parents' not-so-great decisions.
Here's Kelly Osbourne alone with her family at the Birt Awards on February 20th. Images thanks to PR Photos.