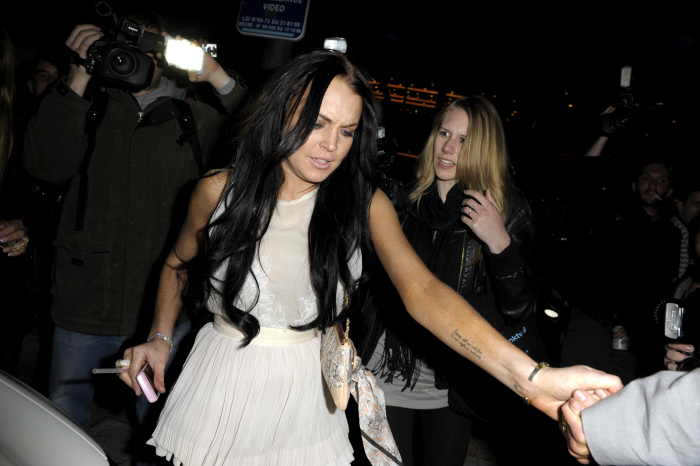 Lindsay Lohan is having one hell of a cracked out adventure in Cannes. She's going to parties, walking red carpets in a torn dress, falling down, getting sh-tfaced, carrying around straws and being a general mess. This could be her last gasp before she goes to jail – but I'll get to that in a moment. First, I want to give you some of my favorite Lindsay Lohan gossip of the past month. According to E! News, Blohan was partying with Dominic Cooper, otherwise known as Amanda Seyfried's cheating boyfriend. E! News won't say whether Dominic and Lindsay hooked up, only that they were dancing and being "coy". Yeah… they're totally getting high and f-cking:
Tomorrow Lindsay Lohan is due in a Los Angeles courtroom, where a judge could toss her into jail. But she didn't let a little thing like that—or any allegiance to Mean Girls costar Amanda Seyfried—spoil her fun at the Cannes Film Festival last night.

Here's what went down.

Lohan and her entourage turned up at the Belvedere party and immediately parked themselves next to the stage, where Grace Jones was due to perform. Among those in Lohan's group was Seyfried's boyfriend, Dominic Cooper.

"They were having fun, partying," an eyewitness tells E! News. "Lindsay was dancing."

Cooper is in town to hype his latest film Tamara Drewe; Seyfried, meanwhile, is back in the States promoting her new chick flick Letters to Juliet. At one point, Cooper was dancing on a couch while Lohan stood on the floor beneath him.

"They were being coy with each other," the clubgoer says. "Not really touchy, but flirty. After Grace's performance they sat down at the table next to each other and were hanging out."

But the good vibes didn't last—at least for all the attendees.

British singer-model Sarah Harding, a member of the group Girls Aloud, had been at the club before Lohan & Co. arrived.

"For no apparent reason, Lindsay's bodyguard asked Sarah to leave the table," the party insider says. "Sarah got upset, but Lindsay's bodyguard made her leave the table. Sarah was causing a stir, yelling, asking why, but it really wasn't clear why it happened."

Hmmm…booting fellow celebs. Flirting with a costar's guy. We have an idea why. Maybe she's just one Mean Girl, after all.
[From E! News]
If Dominic is boning Lindsay (which I think he probably is), then Amanda needs to get over his ass really quickly. None of this Jessica Alba-Cash Warren sh-t. Because Lohan has become what Paris Hilton was (and still is): the Typhoid Mary of Career-Killers. As in, as soon as you party/f-ck/do drugs with Lohan, you're over and done. Your career will never survive.
Now, back to Lindsay and jail. TMZ is reporting that Lindsay tried to leave Cannes and fly back to LA for her court date yesterday, but was denied entry on the plane because… she didn't have a passport. TMZ's sources say "Lindsay has made an appointment with the U.S. Embassy tomorrow at 9 AM to get another passport so she can fly home." Lindsay's lawyer (one of them, in any case) says: "I was on the phone with Lindsay's assistant the entire night and we're doing everything we can to resolve this issue and get her back to L.A. Lindsay is distraught because it was her intention to get back to L.A. today to do more alcohol education classes today and appear in court tomorrow." Right. Because she just had to go to Cannes, right? It was so important, and whoopsie, I lost my passport so now I have to stay and party even longer!!! I'm just a milkaholic, guys!!!
Meanwhile, Judge Marsha Revel says she will issue a warrant for Lindsay if Linds doesn't show up tomorrow morning. And her prosecutor thinks she should get 180-days in jail because Lindsay is not actually in full compliance with her probation. According to TMZ: "Lindsay has not attended all of her alcohol ed classes — she has been to 10 classes and needs 13 for full compliance. In addition, Lindsay has not attended all of the classes in 7 day intervals, as the judge required. An official from the alcohol ed program has sent a report to the judge saying Lindsay is in compliance with the terms of the program. The report does not address the fact that she has not attended all of the required classes."
Header: Lindsay on May 16, 2010 in Cannes. Credit: WENN.