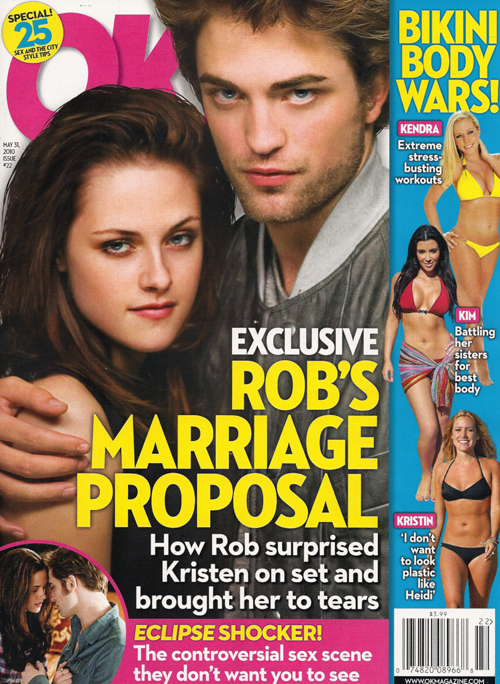 Time for yet more bullsh-t Robert Pattinson and Kristen Stewart stories. I was surprised with yesterday's post when many of you think they're a PR couple. I think they're for real – as in, they are really dating, but nothing hardcore, like OK! Magazine's endless "they're getting married and having a baby" stories. This week's story, as you can tell, is all about how Sparkles proposed marriage to Kristen. Oh, sorry, did you get the wrong impression about that? According to Jezebel's tabloid round-up (because OK won't even put this drivel online), "Rob told Kristen that he wants to spend the rest of his life with her, and proposed… that they'll get married one day." So basically, he told her that he'd like to marry her at some point. They're engaged to be engaged.
OK! Magazine – This is exclusive, meaning "made up." Robert Pattinson was late to the set because he'd gone to a strip club and Kristen Stewart got pissed. So Rob told Kristen that he wants to spend the rest of his life with her, and proposed… that they'll get married one day.

He can't imagine being with anyone else, etc. This story trails off into random factoids, like: Some scenes in Eclipse had to be reshot because test audiences noticed that KStew's hairpiece was askew; she had to get a new wig that would stay on. Also, a scene in which Bella professes her love for Jacob — and kisses him — had to be reshot because tween audiences thought it was too racy.

Oh, and: RPatz has his personal security team clear out his hotel room when he checks out so that his dirty socks don't end up on eBay.
[From OK! Magazine via Jezebel]
Totally boring. Meanwhile, Us Weekly has an interesting little anecdote that I think is probably more "truthy". In the story (teased on the cover) called "Rob & Kristen: How She Tortures Him" we find out that K-Stew and Sparkles fight a lot and "she snaps at him in public. And she's also supermoody. Yet he dotes on her, and is protective of her." Kristen Stewart: Mega-Bitch For No Reason.
Lastly, we have Ashley Green's interview in Seventeen Magazine, trying to convince us that she's worth a multi-million dollar paycheck for Breaking Dawn. Yeah. Here's what she says about Sparkles: "When I met Rob, I didn't think twice about him. He's really attractive, but that chemistry wasn't there. [He just] doesn't understand girls. He gets a lot of attention from them, but he doesn't quite understand it because before 'Twilight,' he was just a guy from 'Harry Potter." Whatever.
OK! Magazine cover courtesy of Jezebel.