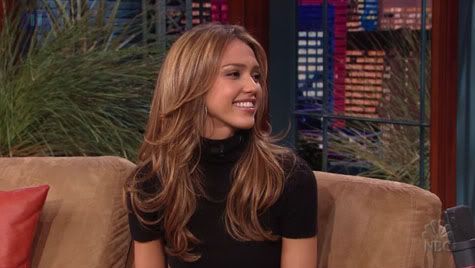 Maybe being humped by dolphins skeeved Jessica Alba out so bad that she became a germ-o-phobe, because she admits to using antibacterial Febreze liberally when she has to stay in hotels:
SIN CITY star JESSICA ALBA is so obsessed with germs, she carries disinfectant spray with her and drenches hotel bedding with the chemical. The actress admits she has a type of obsessive compulsive disorder (OCD) and is disgusted by the thought of someone else having slept in her bed. She admits when she stays at hotels, "I fluff the sheets. I bring Febreze with me. It's an antibacterial spray and I spray everything!" When Alba appeared as a guest on THE TONIGHT SHOW WITH JAY LENO Monday night (05JUN06), the late night host, who is familiar with her germ obsession, gave her a special present – a portable black light. He explained, "I got you something. It's like the best gift and the worst gift. This is a portable black light. You shine this and this will show any stain that has ever been on the comforter (duvet)." "Would you want to know or not know?" A delighted Alba replied, "I absolutely need to know! I'm going to St Louis (Missouri) tomorrow and I'm going to check into a hotel and I'm going to use this!"
It's not like Alba's staying at the Comfort Inn, so she has a serious problem if she can't trust the cleanliness at the Four Seasons or Ritz Carlton.
Alba hasn't been seen with her boyfriend, Cash Warren, in some time. She was said to have broken his heart by deciding to move to NY in the near future, and may have discouraged him from proposing to her. Commentors on Jmazone.de note that Warren may be working in Vancouver, which could explain his absence.
Here is Alba admitting her problem to Jay on "The Tonight Show." [via]