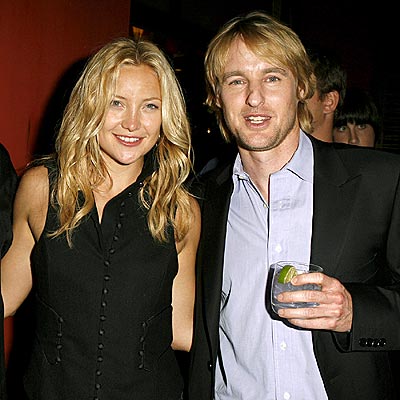 Kate and Owen in a photo last year
They've been trying to keep their rekindled romance under the radar, but Kate Hudson and on-again love interest Owen Wilson, who was most recently rumored to be getting a little somethin' from co-star Jennifer Aniston, were spotted having an intimate dinner together in Miami on Wednesday night.
Caught in the Act: Kate Hudson, holding hands over dinner with Owen Wilson at Michael's Genuine in Miami. There with the producer of Wilson's film "Marley & Me," the actors "looked like a couple," a source tells us. Adds the source: "They were very lovey dovey!" Hudson also has been spotted shopping in Miami recently. The actress stopped by Genius Jones baby store where she bought LIKEaBIKE, a toy to teach children how to ride a real bicycle, and some Marc Jacobs clothing.
To hell with Kate and Owen. I wanna hear more about this LIKEaBIKE thing! I have an 8-year-old who refuses to lose her training wheels because she took a bad fall off her bike last summer. Little Ryder sure has a cool life.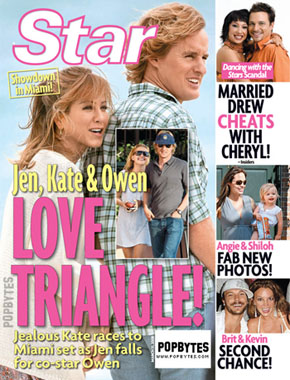 Oh, yeah, topic! Well, I guess this kills those "Owen and Jennifer, sitting in a tree" rumors. Unless, of course, you believe Star Magazine, which claims that there is an Owen-Kate-Jennifer love triangle brewing.
Last week, Star told you that sparks were flying for Jennifer Aniston and Owen Wilson on the Miami set of the upcoming film Marley & Me. But don't count out Kate Hudson just yet!

Star has learned that after word got out about Jennifer and Owen's explosive chemistry, Goldie Hawn's daughter raced back to Florida to pour on the charm.

"When Kate heard that Owen was going to work with Jen, she wasn't worried, because she thought Jen was older and not Owen's type," says an insider. Plus, the two women have been friends for years. "Besides, Jen used to date Vince Vaughn, and Kate knows that Owen is Vince's good friend and that Vince still cares for her. But once Owen started raving to Kate about Jen, saying how cool and pretty she is and how much he liked working with her, Kate got worried."

Even though Jennifer has recently been linked to Brian Bouma, a crew member on her last movie, Traveling, Kate has cause for concern. Eyewitnesses in Miami say that Owen and Jen are growing closer as they play an on-screen husband and wife.

"They're laughing all the time and always touching and hugging, even when the cameras aren't rolling," says a source. "Their connection is amazing!"

They've been meeting up after hours, too, sources tell Star. Owen is staying at a private home on exclusive Star Island, and Jen is at the deluxe Mandarin Oriental hotel. But on March 14, the actor was spotted entering the Mandarin — and he didn't leave until 10:30 a.m. the next day.

"He arrives and leaves when no one is around," says a source in Miami. "They seem to be trying not to be seen together."

Kate was in Miami earlier in the month but left for New York — with son Ryder — to see her ex-hubby Chris Robinson. But word soon drifted back about Owen and Jen's hot connection — and Kate quickly returned to Florida. She flew in on Saturday, March 15, says a source, and spent the night with Owen on Star Island. Later that weekend, the couple were spotted at a private classical concert at the Lincoln Theater in Miami Beach.

"They looked adorable together," says an eyewitness. "At one point, Owen put his hand on Kate's leg. She was giggling like a schoolgirl. They didn't seem to hide their affection."
Hmm. Maybe Owen and Jennifer were trying not to be seen together because every time they are, the tabloids go nuts and say they're getting it on! But I digress. I seriously doubt Jennifer and Owen are anything more than very good friends who are playing a married couple in a movie. But, how crazy would that be if she really DID break up Owen and Kate's relationship– and became, in essence, a WASP-y version of her nemesis, Angelina Jolie? I think people's heads would explode. So, I'm officially rooting for an Owen-Kate-Jen love triangle. The end.
Thanks to popbytes for the Star Magazine cover.