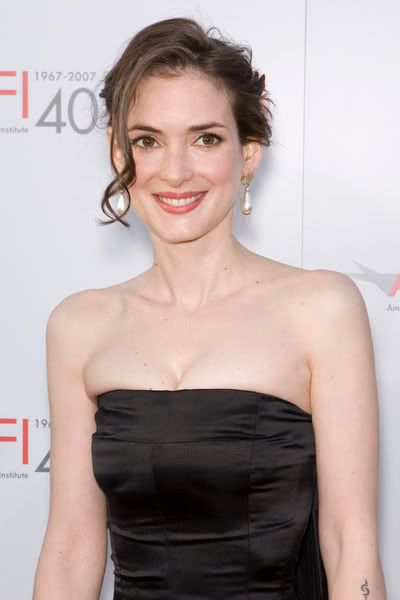 The Daily Mail is reporting a story from an only slightly more reliable source, The National Enquirer, which is set to claim in its upcoming issue that convicted shoplifter Winona Ryder was at it again. They say that Ryder was busted leaving a CVS with makeup she hadn't paid for. (The Daily Mail says it was a "CVC" pharmacy, but I think it's safe to assume it was a CVS.) When Winona was approached by store security she said she had no idea how the pilfered makeup got in her bag. It sounds like she had paid for some purchases and not others, and maybe it was an honest mistake:
Now in a new incident, according to America's National Enquirer magazine, the Girl Interrupted star recently set off the security alarm at Hollywood CVC Pharmacy after making several purchases.

According to the publication, when she left the store, she set off an alarm that drew the attention of a security guard.

A store employee is quoted as saying: "Winona had a bag of stuff, but she set off the theft alarm when she left the store.

"When a security guard stopped her, he found make-up she had not paid for."

And when she was asked about the make-up, Winona answered: "I don't know how that happened."

The store employee added: "We took unpaid items back and she left the store."

Winona's publicist at first denied the incident took place. But when told a store employee had confirmed it, said she would check with her again.
[From The Daily Mail]
Given that it's Winona Ryder involved it's hard to give her the benefit of the doubt, but it could have been one of those situations where you put stuff on the counter and it isn't scanned right or something. That's never happened to me, but I've gone home with the security tags still attached to clothing I've paid for on two separate occasions. Why is it that those blunders seem to favor the store and not the customer?
Winona was caught shoplifting $5,500 worth of goods from a Saks Fifth Avenue in December, 2001, which definitely put a damper on her career. After a high profile trial she was convicted of grand theft and vandalism and was sentenced to three years' probation and 480 hours of community service. Her probation ended on December, 2005, and her career gradually started picking up again afterwards, but never quite recovered.
Winona Ryder is shown on 6/7/07 at AFI Life Achievement Award honoring Al Pacino, thanks to PRPhotos.