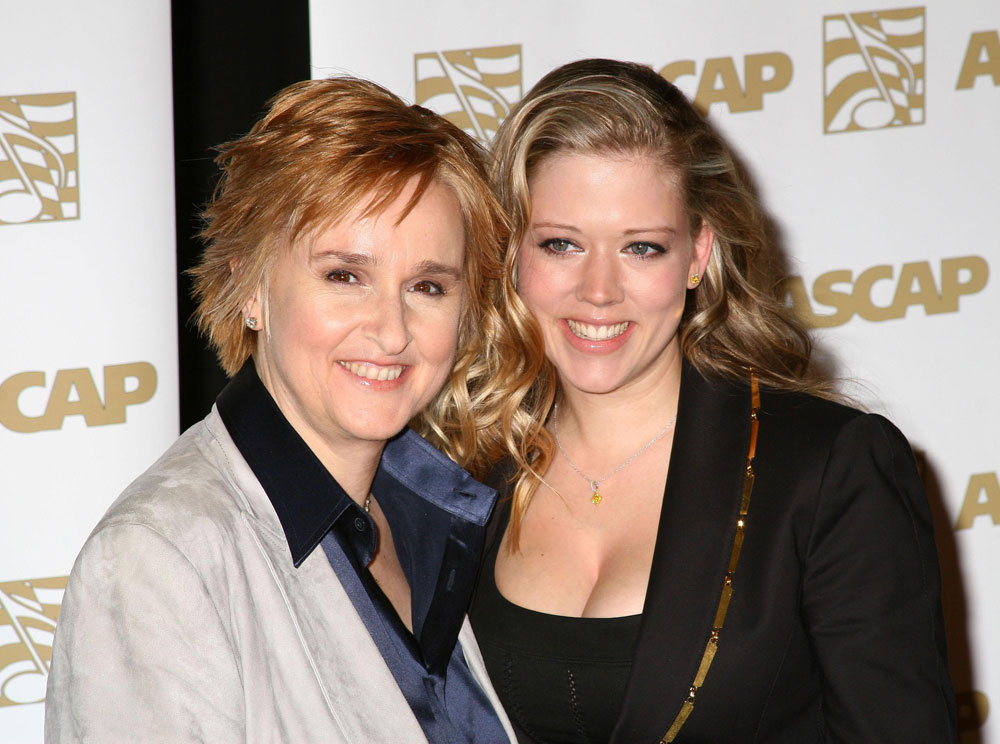 Melissa Etheridge and her longterm partner, Tammy Michaels, announced their split last month after nine years together. We primarily heard Etheridge's side of the story that the split was "mutual" when she was inevitably asked about it on the press tour for her new album. Michaels briefly posted two semi-cryptic blog entries that made it sound like the split was more one-sided. She wrote that she was "blind sided" and hinted that Etheridge was spinning the story for her own purposes. Those posts were subsequently deleted, though, and it seemed like that was the last time we would hear about it for a while. Now Michaels, who is the biological mom to twins with Etheridge, son Miller Steven and daughter Johnny Rose, 3 and a half, has posted a follow up accusing Etheridge of emotionally and physically withdrawing from the relationship while she took care of the children and held down the fort:
no more censorship for me?
well, no censorship?
really, honey?
awesome.

things can be a long time coming
to one
and smash the hell out of
another:
hit and run
not even staying to clean up the mess

secrets, with-holding,
whispering to all but
the one whom holds the vows
and the toddlers

disappearances into the
hourglass-shaped wood with strings
never to finish a fight
never interested in clarifying,
making sense, making it right
even finishing the fight
more interested in making something rhyme
time after time after time
and later angsting that you and me, WE
it didn't work out
you evolved
you needed to be happy-
but really… you withdrew your hands
from family and intimacy
to pluck those strings more

i'd rather hear 10,000 fans
screaming my name in worship
than hear my wife harp on me
about my family intimacy issues too,
you know?
which one is going to get me harder?
easy answer

sideswiped and left mangled
up to my eyes in toilet training toddlers
and sounds of a guitar wailing
letting me know
you would probably leave me soon
i know those heart-ache wails by now

i even told you it was a break up album
and you laughed at me
you laughed and laughed
i heard fearless and i got sick
"that's your break up song with me"
i said to you
you got so angry with me, remember?
and stomped off

so thank you for telling an interviewer
that you WON'T censor me on my blog
(i thought i was to say nothing, my bad)
i was so unhappy thinking people dare look at me
and think that i consider
a marriage and forever to be
nine years or six years or whatever
and i gave up on everything
and just walked off
never is that me… nope, never

cuz i did not go anywhere, honey.
and you and i both know it
please stop telling the press it was mutual-

my birthday rolled around,
the holidays….
and me and the twins sat right there waiting…
we didn't go anywhere. we just
sat and waited and waited and waited and waited…..

"i saw you with your new friends….
you wear them so well…."

i think you're saying it's okay
to be more open now on this blog?
whew.
good. cuz sitting on the fence of
"speak true"
and
"say nothing"

f@%#*ing rides a pole so far up my ass it nearly pierces my brain, and i can't take it anymore, now that i am back home where people don't live in the smoke and mirrors.

oh, and don't let me forget this.

i still love that damn woman so much, i'm still trying to stop. i had a dream last where honey and i were fighting and going to get a divorce, and i woke up sobbing…. then i realized. oh. it's true. and then what do you do? when the horrible feeling in the dream gets to stay even after you wake up?

there. there is my truth as of today.

home again.
home again.
feeling true.
feeling honest.
[From Tammy Michaels' blog via Huffington Post]
I've read this many places and it seems to be coming up often now that there's this whole issue over Facebook privacy: when you're going through a split do not air your dirty laundry online! You should even be careful about who you tell your business to, as even your closest friends may have allegiances to your ex. As mad as you are over how your ex is portraying you or your split, it's better to suck it up and take the high road. You can talk to a few carefully chosen friends and should be careful not to let the world know your business.
The way Michaels words this, it sounds like Etheridge pulled away and was absorbed in her work instead of working out differences as they came up. This happens in many relationships, and it's not helpful to blame the other person or to act like the victim. At least in public. You can bitch the person out all you want to your best friend.
Melissa Etheridge and Tammy Lynn Michaels are shown on 4/18/07. Etheridge is shown performing on Good Morning America on 4/30/10. Credit: WENN.com