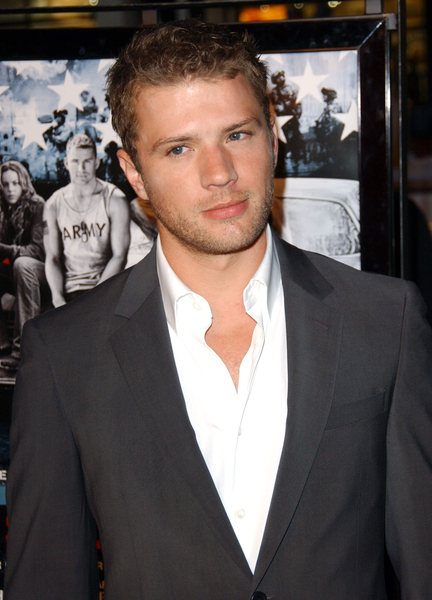 Ryan Phillippe was on Jay Leno last night, and his interview was pretty entertaining. Leno opened up with the statement that he'd Googled Ryan. Ryan said that he stopped doing that because it's depressing and people say hateful things online since they're anonymous.
On "hateful comments" online
"I've stopped Googling myself. Some of the stuff that you see when you are someone who is known is so depressing. Just the comments. People make really hateful comments sometimes, because there's anonymity and you can get away with it."
On his first role, a gay teenager on a soap opera
Ryan didn't elaborate and then Leno told him that he found out that Ryan played the first gay teenager in a soap opera on "One Life to Life." Ryan said he was 17 and came from Delaware and it was his first paying job as an actor. He said that the local Baptist church "had a little bit of a reaction to it."
Ryan said his character's name was "Billy Douglas," and Leno asked him to give the camera his gayest look and he laughed and said he wouldn't do it. Ryan fidgeted in his seat and said "are you just going to embarrass me tonight?" and then got up jokingly like he was going to leave but sat down again.
On his "naked commercial"
Leno said "You also made a naked commercial" and Ryan countered "I am not kidding, I am going to walk off this stage right now."
Ryan then said "I feel kind of cheap actually… it was for Armani jeans. I was probably only 19, and David Lachapelle who is a like real serious photographer… it was a commercial that he was doing and he saw me at a restaurant and put me in it, and I didn't know that I would end up being naked in skid row at 2:00 in the morning with rats crawling around."
Then Leno showed this commercial:

After the break Leno asked Ryan how he spent his money when he first started making it and he said that he bought a lot of CDs and music and that his first big purchase was a house for his parents.
On his kids
Then Leno brought up the fact that Ryan is a Frank Sinatra fan and he said he has a 12 year-old bulldog named Frank and that his daughter, Ava, was named after Sinatra's second wife Ava Gardner. Leno said he used to open for Sinatra and that they did North Carolina once and the crowd wasn't receptive to Sinatra's jokes.
Ryan called Ava "amazing, beautiful," and said "I can't believe I have an eight year-old daughter." He also mentioned his son, Deacon.
He was promoting his new film Stop Loss which is about a soldier called back to war in Iraq after his tour of duty ends. It is out in the US on March 28.
Here's his full interview on Leno last night, thanks to clipper monkeyboy on Redlasso.
Ryan Phillippe on Leno part 1

Ryan Phillippe on Leno part 2

Ryan is shown at the Stop Loss premiere on 3/17/08, thanks to PRPhotos.