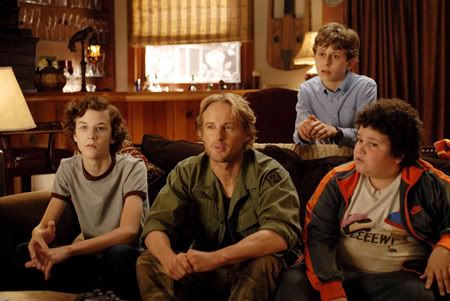 Owen Wilson is not doing any interviews or going on talk shows to promote his upcoming comedy, Drillbit Taylor, which is out in the US on March 21 and features Wilson as a bodyguard to three kids who are bullied at school. Producers made the decision to let Wilson sit out all press for fear that he would get grilled about his personal life and suicide attempt last year. The official reason that Wilson isn't promoting the film is that he's busy filming Marley & Me with Jennifer Aniston in Miami.
The LA Times has a good overview of how films have failed when stars haven't promoted them, and although it's hardly scientific it does point to the need for Wilson to do some sort of press for the film. It might not matter for Drillbit, though, because the audience is adolescent boys and The Times points out that they're not exactly watching the night time talk shows:
On Friday, Paramount Pictures will release "Drillbit Taylor," a new comedy starring Owen Wilson as a bodyguard hired by several high school students looking for bully protection. The film has been accompanied by most of the marketing efforts typically associated with a national theatrical release — including television promotions and coming attractions previews — but you can look far and wide and not find Wilson conducting the kind of interviews that stars of his caliber usually do when they have a big movie to promote…

In some ways, the film doesn't really need Wilson's publicity help. Although the actor has a following among older, well-read filmgoers (his credits include "Meet the Parents," "The Royal Tenenbaums" and "Wedding Crashers"), "Drillbit Taylor" is aimed at pre-pubescent boys, many of whom aren't setting their TiVos for "Late Show With David Letterman" and are not reading this or other newspapers. The interviews Wilson didn't give, in other words, weren't really missed.

But that hasn't always been the case with Wilson or other actors who for personal reasons either weren't able to publicize their films or faced uncomfortable inquiries when they fielded journalists' questions.
[From The LA Times via The Huffington Post]
The article goes on to note that Owen's first film that came out after his suicide attempt, The Darjeeling Limited, wasn't promoted by him and didn't perform well at the box office, taking in just $11.9 million in the US.
Eddie Murphy starred in the film Holy Man which was released in 1998, about a year after his tranny hooker bust. He didn't do press for it either and it was a bomb at the box office.
But Hugh Grant's film Nine Months came out just two weeks after his arrest for getting a BJ from a hooker named Divine Brown. Grant owed up to his conduct and did an "aw shucks" press circuit that earned him a lot of publicity. The film with Julianne Moore was a hit and took in $70 million.
Maybe Wilson should make a couple of appearances on the talk shows. You have to think they won't ask questions about his suicide attempt if his publicist works it out ahead of time and it would help clear up some of the mystery. He could crack jokes and show everyone he's doing fine. (And fighting off two women, by some accounts.)
Here's the trailer for "Drillbit Taylor." It looks pretty stupid to me, but I'm not the intended audience.

And here are photos from the film, thanks to Allmoviephoto.