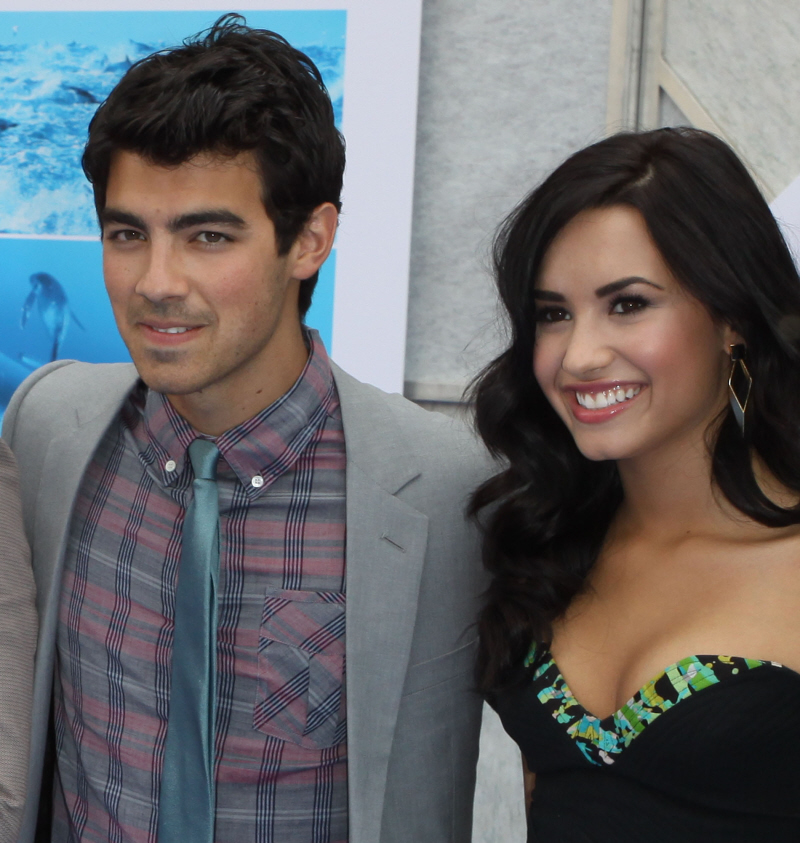 You know who sounds like a major tool? Joe Jonas. This little pipsqueak dumped his girlfriend Taylor Swift back in November 2008 – by phone. He didn't have the balls to dump her to her face. And after he dumped her by phone, he let her find out in the press that he started dating Camilla Belle two seconds later. Well, no one really knows how Camilla and Joe split up (I have a few guesses), but at some point, Joe began dating little Demi Lovato. I basically know Demi for two reasons: she used to date that kid who looks like the love child of Joey Ramone and a goat, Trace Cyrus (Miley's older brother), and because Demi is maybe/probably a self-cutter. Are those two factoids connected? Probably. Anyway, according to Us Weekly, Joe and Demi only acknowledged they were dating back in March – and now a source is not only saying that Demi and Joe have split, but that Joe did the phone-dump again. A–hole. Oh, People Mag is confirming the split, so it did happen. Now we just need to know how it happened.
Harsh!

After just a few months of dating, Joe Jonas and Demi Lovato have called it quits, a source confirms to UsMagazine.com. Adding insult to injury: Jonas dumped Lovato over the phone. "He didn't have the heart to do it in person," the source explains. And it's not the first time Jonas has ended things that way: back in November 2008, his ex Taylor Swift admitted he dumped her during a "27 second" phone call a month before.

Lovato, 17, met Jonas, 20, in 2007 on the set of Disney channel series Camp Rock. The pair finally acknowledged their romance in a March radio interview with Access Hollywood's Billy Bush.

Just last week, Lovato gushed to Us that Jonas was "my first serious relationship…He knows me better than I know myself, and I know him better than he knows himself."

The source close to the pair explains that Jonas "thought it wasn't a good idea for them to be dating and working together all time and was afraid it was ruining the friendship."

The former couple will still have to deal with one another this summer: they're set to tour together this summer.

"She's a strong girl," the source says, adding that the breakup isn't "necessarily" forever. "They are so young…I wouldn't count them out yet."
[From Us Weekly]
Why is Joe Jonas the bee's knees, by the way? I wouldn't think any of the Jonas boys would be catnip to women (except for their Mommy), and since we know the two unmarried brothers aren't having sex, what's the appeal? Honestly, though, I fear we'll now have another round of Demi-is-cutting stories. They seem to appear whenever she's just been through a breakup.
UPDATE: Us Weekly got a statement from Joe Jonas regarding the breakup. He said: "Demi and I knew going into our romantic relationship that it may not be an easy one. I realize over the time we have shared together that I feel I care more about our friendship right now. It was my choice to breakup, but I love her as a friend. She's been there for me when I needed her. I will continue to be her friend and be there for her." Meanwhile, Demi denied that it happened over the phone, tweeting: "There are so many crazy rumors flying around today. Joe and I did split, but it wasn't over the phone. Things didn't work out but we'll remain friends."
Header: Demi and Joe on April 17, 2010. Credit: WENN.