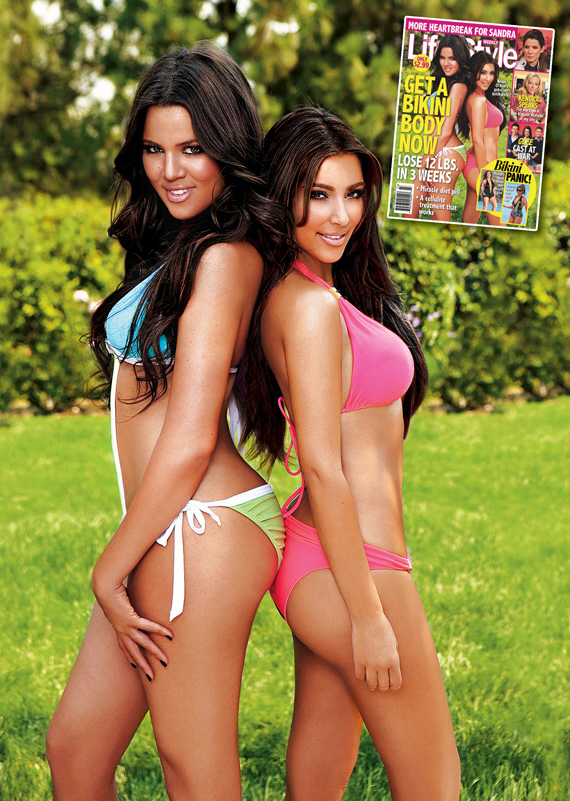 Honestly, I saw this completely new Life & Style cover, and I was hit with a heavy sense of déjà vu, but I just passed it off as "Well, I've been writing about the Kardashians too long." But as Huffington Post points out, this cover is nearly identical to one Kim and Khloe did in September 2009. I covered it! I called the piece "Kim & Khloe's diet secret: epic Photoshop". Sometimes I impress myself with my genius! Haha. But I did include these lines: "Obviously, the Kardashian diet secret is "Photoshop". Take a look at their legs! Now, both Kim and Khloe are curvy, voluptuous girls, even with some kind of extreme diet. There is absolutely no way in hell those are Khloe's real thighs. And they Photoshopped away half of Kim's ass! What the…?" Since Life & Style is repeating, I get to as well. In the new photo, I still think Khloe's legs look Photoshopped, and Kim's ass is still looking retouched to me. Here's the old 2009 cover, plus the "new" interview with Khloe and Kim – it's basically just an ad for Trim Spa:
Reality stars KIM and KHLOÉ KARDASHIAN have lost 10 pounds and 25 pounds, respectively, in the last year and look more confident than ever. Now, the sisters share their tips with Life & Style on how they've kept the weight off for almost a year—without depriving themselves!

Kim says eating breakfast is key. "Before, all I'd have for breakfast was a Grande Soy Chai Latte," Kim tells Life & Style. Now, both sisters eat either oatmeal or eggs, turkey bacon and fruit. The reality star tells the mag she eats protein at every meal to fill up and makes sure not to deprive herself. "If I feel like a milk shake, I have one," says Kim. And most important, they lean on each other for support. "Kim will always call me and be like, 'Let's go do boot camp!' and that motivates me," Khloé tells Life & Style.

The Kardashian's are not the only stars looking bikini-ready this season. The Hills' AUDRINA PATRIDGE and KRISTIN CAVALLARI recently hit the beach in Costa Rica looking toned and trimmed. Audrina's secret? "When I'm sitting in front of the TV, I lift 5-pound weights or do squats," she tells Life & Style. And Kristin rarely works out, but she sticks to a high-protein diet with a lot of fish, especially salmon, and tons of veggies.
[From Life & Style]
Eh. In the 2009 post I mentioned something about a "cocaine diet" but I'd like to revise my previous clever witticism. I think the Kardashian women "diet" on Photoshop and plastic surgery. And love!
Oh, crap! Kim also made the cover of Us Weekly's "Diets That Work" and OK! Magazine's "Boob Jobs, Botox & Lipo: Plastic Surgeons Tell-All!". Ha.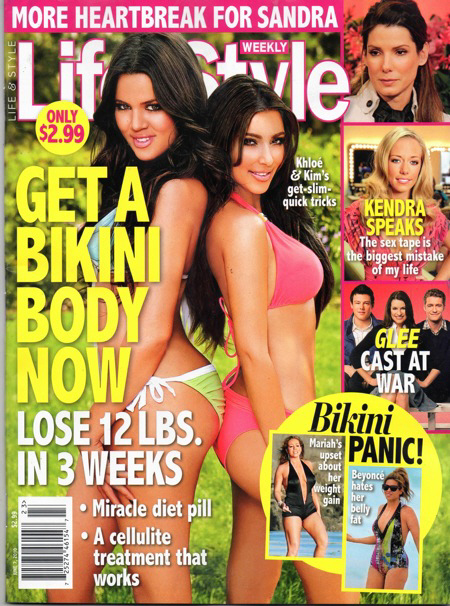 Photos courtesy of HuffPo & CoverAwards.