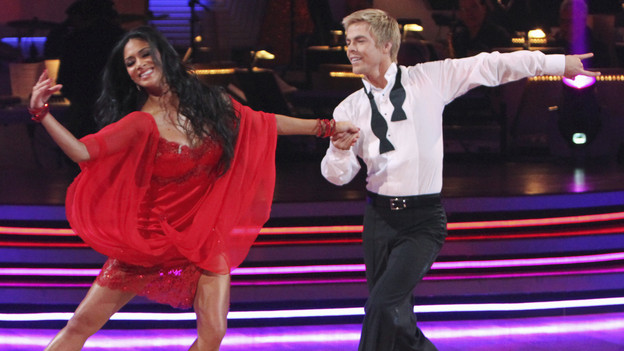 This whole post is a spoiler for the Dancing With The Stars finale
You've undoubtedly heard by now that Pussycat Doll Nicole Scherzinger won the mirror ball trophy on last night's Dancing with The Stars finale. The final two were down to figure skater Evan Lysacek and Scherzinger after ESPN anchorwoman Erin Andrews was eliminated. Scherzinger reigned triumphant, and brought home the prize. It was Scherzinger's partner Derek Hough's second time at the top. He won first place with Brooke Burke in 2008.
Sure enough, it was Pussycat Doll galore as Nicole Scherzinger was named the winner of the 10th season of Dancing With the Stars.

The pop star, who was repeatedly labeled by the judges the best they'd ever seen on the show, couldn't really get any words out, choosing instead to jump up and down and scream her head off.

"Everyone's been amazing and I'm so happy!" said Nicole's partner, Derek Hough, a two-time Dancing champ after also winning with Brooke Burke in season seven.

It really would have been a crime if Nicole hadn't won, really, especially after the killer jive Derek choreographed for their final number of the season.

"There were 12 days of Christmas, seven dwarves, four Beatles. There can only be one winner of Dancing With the Stars. It should be you," said head judge Len Goodman as he and colleagues Carrie Ann Inaba and Bruno Tonioli awarded them one last 30.

Erin, meanwhile, was—as expected, really—the first to go, presumably regardless of the fact that the judges ranked her Argentine tango replay third behind Evan and Nicole, who placed first.

"This experience has meant everything to me," the emotional ESPN reporter said upon her exit. "I knew that these two were going to go head-to-head in this. I came here under really crummy circumstances, and I just wanted to get my life back together and my smile back. I just wanted to be myself again."

And, she added, pointing to partner Maksim Chmerkovskiy, "This one has just put my life back together."

Though he didn't get her all the way to the finish line, Maks said that, in his eyes, they had already won.

So it turns out that Olympians who make the finals can, in fact, lose, as Evan gracefully turned the spotlight over to Nicole and Derek after falling just short of the proverbial gold medal.

"It's been such a blast, we were totally satisfied with everything we gave," the figure skater said of his performance with partner Anna Trebunskaya, a first-time finalist on the show.

"They deserved it, they worked so hard and inspired all the other couples in the competition," he said.
[From E! Online]
Apart from this week, I haven't watched this show since Kate Gosselin was eliminated. I caught Monday's competition and Scherzinger did an incredibly sensual Rumba to Lady in Red that was just mesmerizing. Here's that dance, it starts at 1:00 in.
In last night's finale, Nicole and Derek did an energetic jive to Proud Mary. That starts at 1:40.

Here's the moment these two won. It's at 1:15.

Nicole told US Weekly that she'll be giving her trophy to her mom "because she's the reason I really did this show." She said she plans to celebrate her win with Derek by eating some red velvet cake and brownies together. Congratulations to Derek and Nicole on a well deserved win!
Photos are courtesy of ABC, where you can watch full episodes of Dancing With The Stars online.