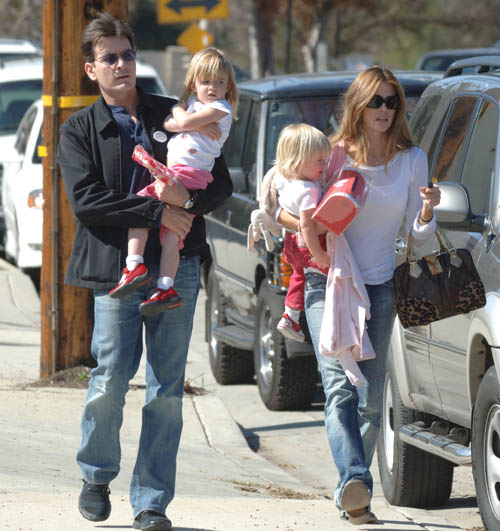 An older image of exes Denise and Charlie with their girls
For her daughter Sam's fourth birthday party, Denise Richards didn't go for the standard preschool-pleasing fare like a magic act or a pirate or barbie theme. Richards had a birthday party for her daughter that sounds more like something an adult woman would do with her friends – a spa day:
"There was a sign on the front door that said 'Sammi's Spa,'" a source tells Star. "And waiting there were tiny bathrobes monogrammed with each kid's name," the source notes. All the girls got their nails painted and their hair done, while the boy's hair was styled into Mohawks.
[From Star Magazine, print edition, March 31, 2008]
I have a little boy around that age, and there's nothing more annoying to him than having his hair washed. We got one of those shampoo visors and that seems to have done the trick, but he would surely throw a fit before allowing anyone to style his hair.
Little girls are more into mommy-type activities and might really enjoy a spa day, but it sounds more like a publicity stunt for Richards' new reality show than something a four year-old would ask for. Star notes that "everything was filmed for Denise's upcoming reality show" so you know why she didn't throw a party fit for four year-olds.
Richards won a court battle in January with her ex, Charlie Sheen, to include their daughters on television and claimed that the girls said they wanted to be on TV and that they love to dress up and get their hair done. Her daughters are 2 and 4.
Another stunt that Richards recently pulled for the show was having her "Charlie" tattoo on her ankle removed. At least it didn't involve exploiting her daughters. That'll show him Denise!
This show is going to be distilled down to clips of Richards looking like the ultimate stage mom and will hopefully do more damage to her already-poor image. Her next career move will probably involve pushing her daughters into some sort of show business venture. She's just prepping them for it with this reality show.
Sam and Lola better practice their scowls – it's their only defense against commercials and child modeling.
Header image is an older one of Denise, Charlie Sheen and their two girls, Sam and Lola, thanks to Splash News.