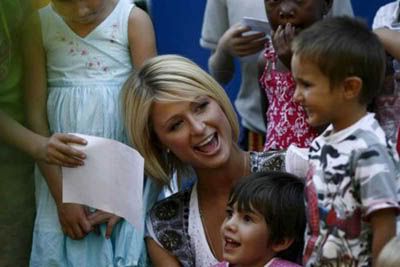 Paris Hilton was in South Africa over the weekend with her boyfriend, Benji Madden, for his band Good Charlotte's tour. She finally did some of that charity work she was contemplating during her stint in jail for DUI and parole violations. Paris spent a whole two hours at an orphanage on Friday.
When asked recently how she liked South Africa, Paris didn't want to leave the other countries in Africa out, so she also said she loved "West Africa," that giant country on the right side of the continent.
Paris said, "I love Africa in general — South Africa and West Africa, they are both great countries."
Paris is a high school dropout who earned a GED, but don't you have to know basic geography to pass a GED exam?
On Friday night the gawky heiress with the size 11 feet hosted a party in Johannesburg, telling the crowd she "loved South Africa, the accent and everyone."
Here are photos of Paris in Africa at the orphanage on Friday, via D-Listed. You can almost see the wheels turning in her head in the photo below.