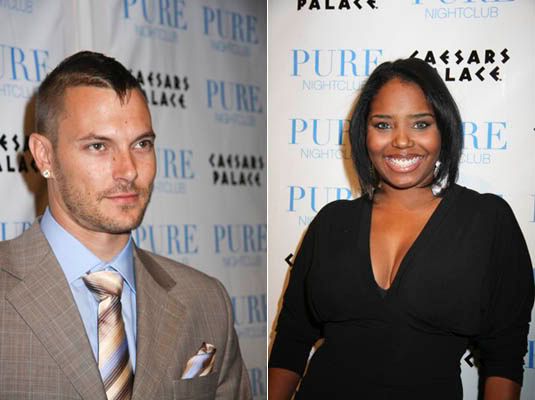 The FedEx received anywhere from $100,000 to $300,000 to attend his own comped 30th birthday party at Pure Nightclub at Ceasars Palace on Friday night. For an amount that most people would gleefully accept for a year's worth of forty hour weeks slaving away in a cubicle, Federline downed shots and hung out with his friends, including his ex and the mother of two of his children, Shar Jackson. Shar and K-Fed looked cozier than you would expect for supposedly estranged co-parents, and many whispered that there was something going on there:
The Federline clan was joined by Jackson and a gaggle of her girlfriends for a birthday dinner at the swank Social House before heading to Pure, where they downed Jack Daniel's and Patron shots in the white leather VIP booth. The Pussycat Dolls sang K-Fed a saucy rendition of "Happy Birthday" as Jackson snuggled close to her ex. "They looked like a couple again," our spy said. By 2 a.m. the whole party decamped to late-night lounge Noir Bar inside Luxor.

Spawn Sean Preston and Jayden James were away with a sitter allowing their dear dad to party all night long.
[From The NY Daily News]
Shar has almost always been gracious and kind to her ex in the press, most recently explaining his weight gain as "daddy weight." If my partner left me when I was heavily pregnant it's not likely that I would have a kind word to say about him for years. Jackson is more forward-thinking than I am, though, and has easily prevailed in the battle of the baby mommas. She has the dubious prize of staying in K-Fed's good graces and probably hooking up with him when it's convenient, something that Britney is said to yearn for despite the fact that the rest of the world finds K-Fed and his duck's ass haircut laughable.
Shar may have another reason for keeping the FedEx fat and satisfied. She is said to be launching a hip hop album after she won on VH1's "Celebrity Rap Superstar." Maybe K-Fed still has connections in the music industry despite his lack of talent and the dismal performance of his album. The guy is getting paid six figures to party for a night, which seems to indicate that he has more skills than you might give him credit for.
But clearly those skills aren't in rapping or hosting parties, just getting paid for it. Here's a video from the night in question. The crowd boos K-Fed when he tries to talk or yell or whatever it is he's doing.