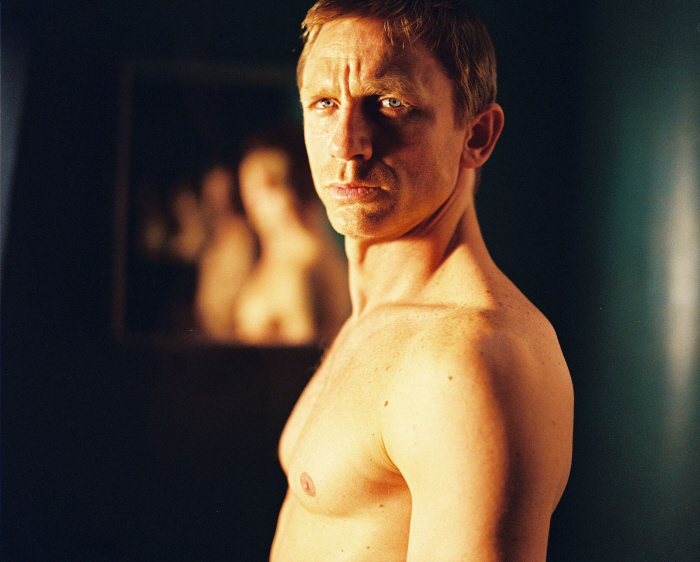 This National Enquirer story just made my day. I needed this. A hottie, a gay bar, and some hot man-on-man action. You know why I love gay bars? The drinks are always stronger and the music is always better. This is probably how Daniel Craig feels too. According to the Enquirer, Daniel showed up at a gay bar in Venice, California with a "good-looking man". They had a few drinks, shared a few laughs, danced to a few songs. Then they went out to a parking lot to make out. This story is turning me on so much:
007 hunk Daniel Craig shared a steamy kiss with a smoking-hot guy in the parking lot of a gay bar – leading patrons to wonder if the action star is bisexual!

Pulses raced when the 42-year-old "Casino Royale" star showed up at the Roosterfish bar in Venice, Calif., with a good-looking man on May 15.

After a few drinks, the two men hit the dance floor, and at the end of the night, they were spotted smooching outside, according to a stunned eyewitness. (The ENQUIRER contacted Craig's rep about the kissing incident, but got no response.)

"At first, I thought Daniel might have come in with his gay friend to check out the live music. But when they started dancing together, I thought, 'This is more than just two friends out for drinks,'" the source said.
[From The National Enquirer]
It's like fan fiction for straight girls who get off on the occasional "hot man on hot man" pornographic fantasy (*raising hand*). In my mind, Daniel Craig's special friend is well-built, dark, but not pretty. A little bit rough trade, a little bit Euro. Like a beefy Ed Westwick, mixed with Javier Bardem. For the purpose of my fantasy, I shall call him Javi. I imagine them dancing to Gaga's "Bad Romance". Daniel turns and twirls on the dance floor, and Javi's hands find their way to Daniel's slender hips. Their eyes meet… "I want your ugly, I want your disease…" Gaga sings. Daniel moves in, his lips faintly brushing Javi's ear. "Let's get out of here," Daniel whispers. Javi moves in even closer, their chests against each other. "Yes," Javi says hoarsely. They can't even make it to the hotel down the road. Daniel presses Javi against a vintage Jaguar in the parking lot, kissing him softly at first, then harder, rougher…
Jesus, I need to stop.
Header: Still from Layer Cake.