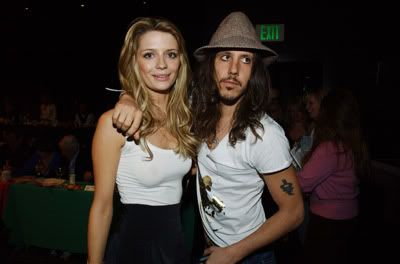 Mischa Barton has stopped smoking up long enough to realize that she's out of Cisco Adler's league. Adler was said to be unhappy with Barton's partying, which led the actress to break up with the Whitestarr frontman:
The actress, who plays Marissa Cooper in popular teen drama 'The O.C.',
has allegedly called time on the pair's romance after the Whitestarr rocker complained she was partying too much.
According to Britain's Daily Star newspaper, Barton, 20, was less than impressed when Adler, 26, told her he was unhappy with the amount of time she was spending with close friend Nicole Richie and dumped him.
The two were said to be engaged last fall, but that seems to have been short lived. Page Six, hardly known for its accuracy, reported that they first split on February 26. They were spotted together since, suggesting they had reconciled.
This time Barton seems to have wised up. She's hardly as foolish as most other actresses, and Adler must have had some redeeming qualities, but she's likely to move on to better fare now that she's single.
Barton is also said to want to leave "The O.C." now that the show is not doing as well in the ratings.
Pictures [via]
Here is Mischa in New York on March 31st, and in California last week. And a glimpse at what she's missing in these pictures of Cisco Adler performing at the Celebrity Rock and Bowl on April 6th.