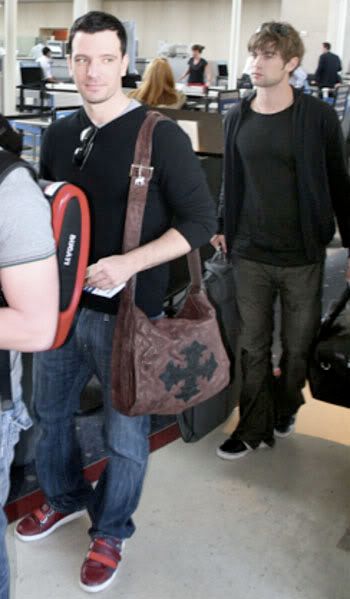 Gorgeous Gossip Girl actor Chace Crawford, 22, was seen trying to quietly slip in and out of a poolside cabana he was thought to share with N Sync singer JC Chasez, 31, at the Roosevelt hotel in LA. Defamer had a tipster send in the sighting along with a faraway photo of Crawford. Maybe these two are just "good friends," but this week's Globe suggests it's something more. I know the Globe isn't the most reliable source, but they have photos of the two out together in New York, Hollywood and Miami across several months.
Globe says that Crawford's girlfriend, country singer Carrie Underwood, has already lost him to the handsome boy bander, and that the two guys have moved in together in LA:
Has American Idol turned country star Carrie Underwood lost her hot actor boyfriend Chace Crawford to another guy?

While cowgirl Carrie has been touring with Keith Urban, rumors are mounting that she could be headed for a mess of Brokeback heartbreak as Crawford has been popping up on both coasts with former 'NSync star JC Chasez!

And there are even reports the Gossip Girls hunk has moved into JC's Los Angeles pad…
[From The Globe, print edition, March 31, 2008, via Gossip Boy]
The Globe notes all the times these two have been seen out together, including Elton Jonn's Oscar party, New Year's Eve at the Raleigh hotel in Miami and in September at the Gramercy Park in NY. They say they're "inseparable."
If they're more than friends and are together that's great for them. These two are both attractive young guys and they make a really cute couple. It's too bad that Underwood may have been dumped and/or cheated on, but she's a country singer and I'm sure it would make a useful subject for a song. She could change "Before He Cheats" to "Before He Cheats With His Best Friend."
JC Chasez and Chace Crawford are shown at the airport in late February and at a New Year's Eve party. Photos via Oceanup and Celeb Crust.