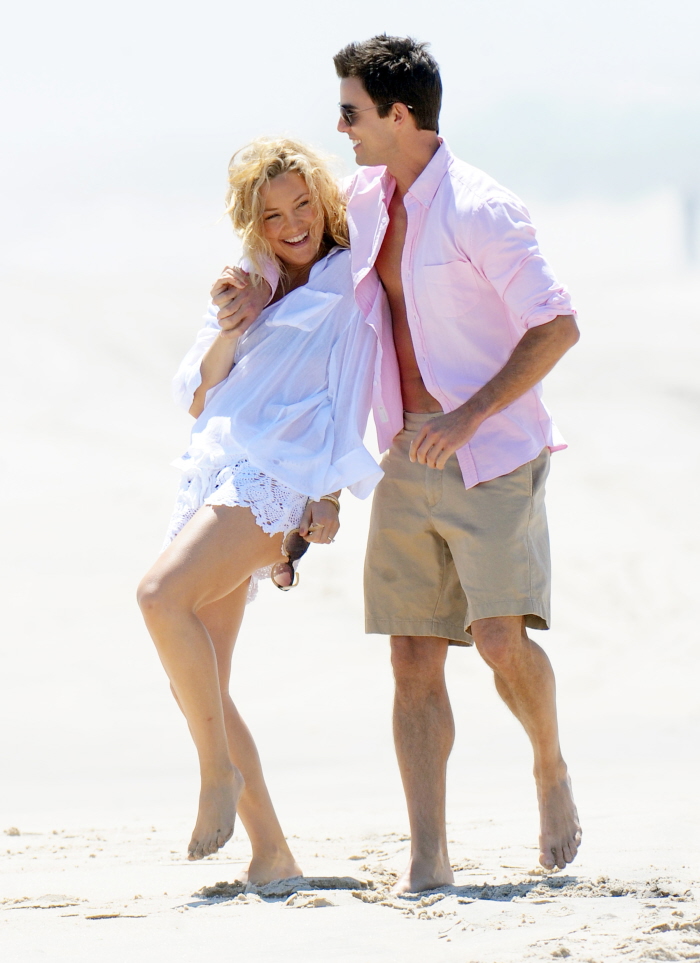 Kate Hudson may be f-cking her Something Borrowed costar, Colin Egglesfield, You may remember Colin as… well, you probably don't know him. On the off-chance you watch the new Melrose Place, he's on that. And a while back, there were rumors that he and Ashlee Simpson were having an affair – and that story came from Star Magazine too, so Star probably just likes to run photos of Colin. CB thinks he's hot – I think he looks like a budget Eddie Cibrian, right? And Cibrian is already pretty budget, so I don't know what's going on. This is a typical non-story almost solely based on two things:
1. Most tabloids and sites have access to a series of photos of Kate and Colin filming a love scene on a beach, and the photos are pretty good, and make the story better.
2. Kate is a slut (bless her heart), and saying that she's boning her costar isn't that much of a stretch.
So, with that in mind, let's see what Star has to say:
Kate Hudson has found love – or, at the very least, lust – on the set of the upcoming film Something Borrowed with her on-screen fiancée, former Melrose Place star Colin Egglesfield.

"He's her summer fling," a pal of the actress tells Star. "Cameron Diaz can have Alex Rodriguez – Kate has Colin!"

The new twosome sparked the moment they met in preproduction for the romantic comedy based on the best-selling book, says another insider. And when they showed up on set in the Hamptons in New York for the first day of filming May 18, it didn't take long for Kate, 31, and equally single Colin, 37, to heat up.

"They kissed for a scene their very first day of working together – and they loved it," says the insider. "When the director yelled cut, they were still kissing. They couldn't get enough of each other. They're having an absolute blast."

"They've been taking long strolls along the shore after sunset. Right now it's totally fresh and new and they're both really crushing on each other. This is just what Kate needed to lift her spirits."
[From Star Magazine, print edition]
Eh. It could be on. Especially if they're both single. I think it was last month that Kate was allegedly juggling three or four men, none of whom I can even remember. But I could see her settling on Colin for the whole summer – she seems to like having a boyfriend when it's warm. Pretty soon Kate will be posing in her bikini and her new boobs and everyone will be writing about how much she wants to settle down with Colin because after one month together, she knows he's "the one".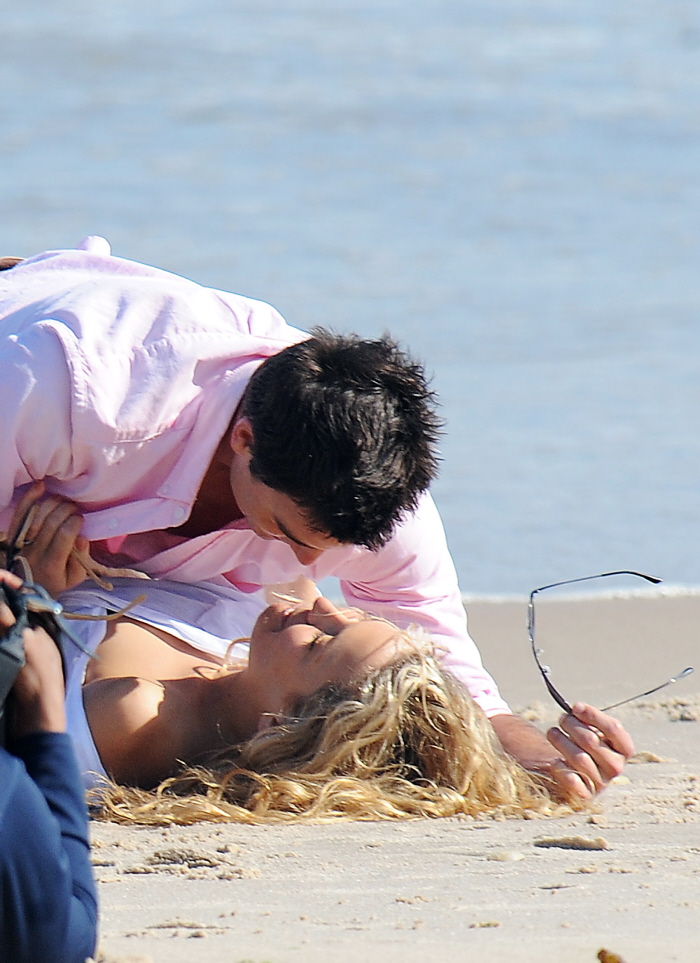 Kate and Colin in the Hamptons on May 20, 2010. Credit: AAR/Fame.