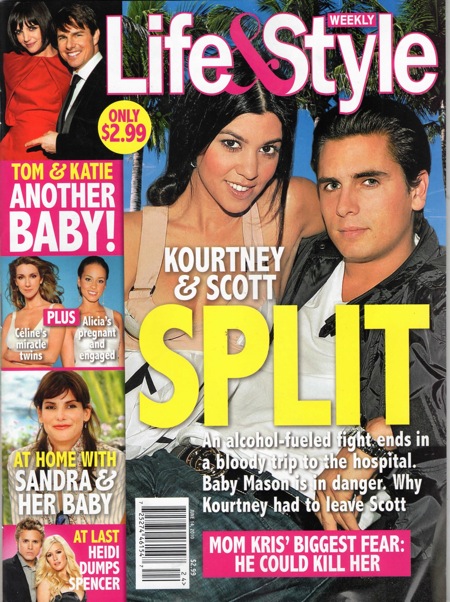 Goodness, the Kardashians will literally do ANYTHING to promote their dumb show. Life & Style is running yet another cover about what a jackass Scott Disick is (like In Touch Weekly ran for about a month straight to promote the show), only this time there's a new twist: Scott Disick is an abusive drunk. Life & Style doesn't claim that Scott is hitting Kourtney, but do say that they've obtained new clips of Scott, drunk and angry, coming after Kourtney, Kim and baby Mason Dixon, and how the girls had to lock themselves in a bedroom and call the police. Here's more:
"I wouldn't wish that experience on anyone. To go through that… you'll see what a strong person Kourtney is." – KIM KARDASHIAN to LIFE & STYLE on the terrifying incident

Kourtney Kardashian faces a harsh — and horrifying — reality in season two of Kourtney & Khloé Take Miami. In footage obtained by Life & Style, the new mom is seen cowering with her now-5-month-old son, Mason, as her boyfriend and Mason's daddy, Scott Disick, goes on an alcohol-fueled tirade.

The intense clip shows Scott smashing bottles and punching walls, throwing back drinks and littering the floor with broken glass. Kourtney's shown slamming her bedroom door, frantically locking Mason and her sister Kim inside to shield them from her enraged beau.

"I'm afraid he's going to come back in here," says Kim as she clutches Mason. The fight ends with Scott rushed to the hospital and Kourtney left in hysterics.

"I can't do this anymore," Kourtney cries into her phone. "I love Mason more than I love you."

Now, an insider tells Life & Style that the terrifying incident spurred a split for the couple.

"She left Scott in Miami and returned to LA ahead of schedule," the insider reveals to Life & Style. After weeks apart this past spring, time is slowly healing the couple's relationship.

"Kourtney wants Scott to be a good father and will do what it takes to get him professional help for his drinking," says the insider. "If he hadn't gotten help, it would have been the end."

Still, the fight left Kourtney's family concerned for her safety.

"I've had another girlfriend who allowed this kind of stuff in her life, and she ended up dead," Kris Jenner, says ominously in the footage obtained by Life & Style, referring to her best friend, Nicole Brown Simpson, O.J. Simpson's ex-wife, who was brutally murdered in 1994.
[From Life & Style]
Did it really go down like this? Eh. I mean, sure, I'll buy that Scott is an abusive drunk, and I'll also buy that he's probably drinking a lot more these days and he's probably treating Kourtney like crap. That would seem to be his character, and I've never seen anything that would convince me otherwise. He's a dirt bag, and she should get out now, I've always said that. He's Patrick Bateman for goodness sake. But I think that if the Kardashian/Jenner family was truly concerned about Scott being abusive towards Kourtney (and the baby!), we would have heard about it, and they would have already split. I mean, this is probably an incident that happened at least a month ago. If it was so serious, why isn't Kourtney done with him? The best theory I've got is that there was an incident similar to this, but not as hardcore, and now the Kardashians are using it to promote their show. So it's not so much with the "let's help our sister out of her abusive relationship" and more "let's exploit our sister who is in a bad relationship, all for ratings."
Life & Style cover courtesy of CoverAwards.