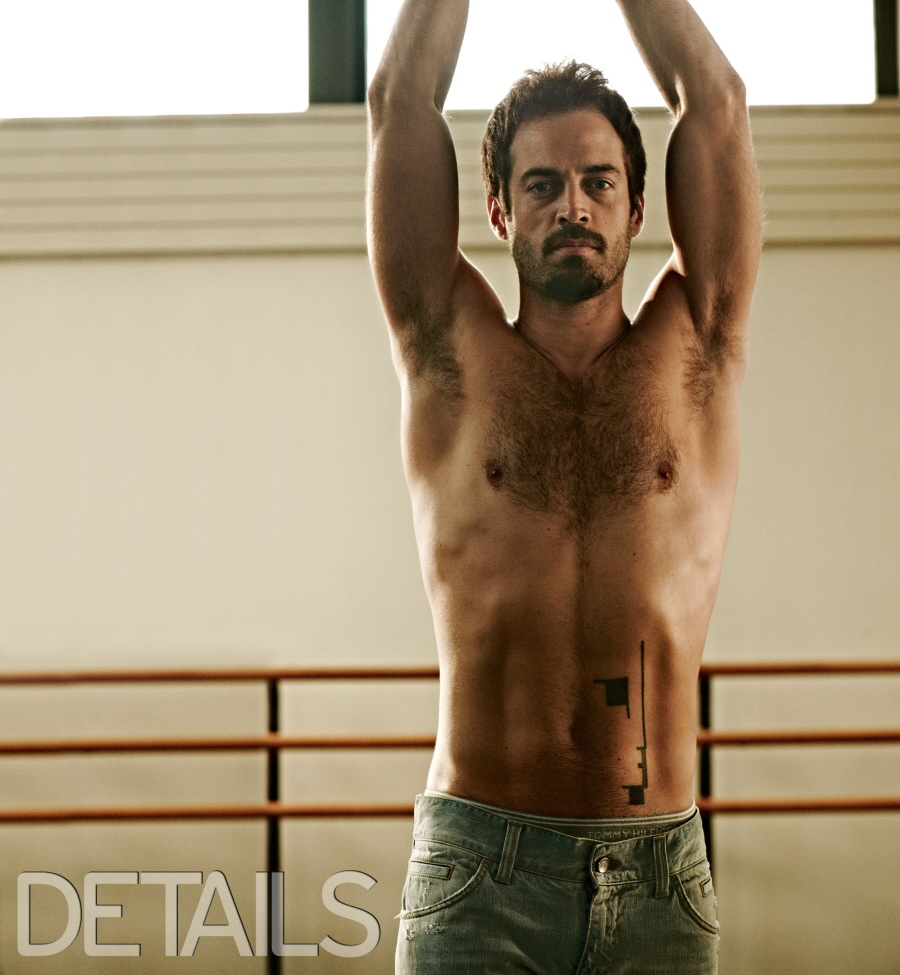 Details Magazine just sent us this photo of Natalie Portman's current boyfriend, ballet dancer and choreographer Benjamin Millepied. Um… Jesus. Thank you, Details. And thank you, Natalie Portman, for dating someone hot for a change. Granted, Natalie has dated hot dudes like Gael Garcia Bernal. But she also dated that weird dude who looked like an out-of-shape Jesus whose name I'm not even going to look up. This Benjamin Millepied is my new favorite. He's delicious. And no, I have no idea what that weird ink blot thing is one his stomach. It's on the high-res photo Details sent us, and it's online at the Details site too. Maybe a tattoo?
There's an interview with him too. But does he really need to talk? Honestly? He and Natalie met each other when they were both doing The Black Swan. Let's see, here's the full piece and here are some highlights:
Millepied is at dinner, texting under the table. He looks up, fighting off a giddy smile so unsuccessfully that he feels the need to explain himself. "Sorry," he says. "That's, ah, that's, ah, my girlfriend." Meaning Natalie Portman. He met her last spring on the set of Black Swan, Darren Aronofsky's forthcoming film about the toxic relationship between two ballerinas, played by Portman and Mila Kunis. Millepied choreographed the actors ("Whatever he did, he always made it so that I was still able to do it and not look like a jackass," Kunis says. "When he lifts you, he makes you feel light as a feather") and policed the depiction of their everyday life as dancers: what goes on in the dressing room, how they speak, what they eat. Authenticity was crucial for Aronofsky, who'd been knocking his head against the dance establishment's walls for some time. "Usually when I tell people I'm doing a movie, doors open up, but the ballet world really didn't give a shit," Aronofsky says. "It was clear Benjamin was going to help me communicate to audiences who had no connection to ballet. He wasn't alien like a lot of people I found in the dance world." For Millepied, the movie was a crack in the door to Hollywood, and he wasn't about to let three choreography stints, a headlining tour of France, and a battery of dance performances stop him from getting his foot in there.

A couple of months into the project, Millepied volunteered himself for a part in the film as Kunis and Portman's dance partner. "I called Darren and I was like, 'I would love to play this part,' " Millepied says. "He was like, 'You don't have to suggest yourself—we already think you're totally right for it.' " He had only about six lines but that was enough. "I really, really got into it," Millepied says. "You're standing up next to those actors, like Natalie, and you're like, 'F*&@.' " Fresh awe fills his face. "I was blown away—especially by Natalie, who was amazing to watch."

That statement, and the sunrise glow on Millepied's face when he makes it, are organic proof that he and Portman are happily dating. The tabloids haven't cut the culture crowd's It couple any slack. In January the New York Post insinuated that Portman was a home wrecker because Millepied was rumored to still be living with his ballerina girlfriend Isabella Boylston when he and Portman got together. Predictably, the two have been stalked by paparazzi, both in New York and during Millepied's trips to Los Angeles. "It's . . . everybody's asking us," he says. "We just want to keep things to ourselves."

That might be harder for this generation's Baryshnikov than it was for Baryshnikov. Back then there was no TMZ or Perez Hilton, where shirtless photos of Millepied will undoubtedly end up, hearts encircling the Bauhaus tattoo on his abdomen (he got big into 1920s art and furniture a few years back). But Millepied has determination. He has inner calm. He has a shitload of work to do. "My schedule's booked for three years," Millepied says. Besides the ballet he's choreographing for the NYCB, he has two pieces playing at the Paris Opera and one in Amsterdam—all before the end of the year. He's also got "a couple of things" he hopes to shop to Broadway producers someday. Then there are movies—beyond Black Swan. Millepied admits to having directorial ambitions. And acting? "I think you can learn to act," he says.

If all that sounds ambitious to the point of delusion, it helps to consider Aronofsky's first impression of Millepied: "He's very exciting to be around because he's got a lot of passion and a great eye. His future's gonna be vast—and very unique."

As for dancing, Millepied doesn't really book himself beyond what the NYCB requests of him these days, confounding some of his colleagues, who tell him he's squandering his prime physical years. "Everybody's like, 'You should just dance now'—that I can't do." He's talking about choreography but could be referring to any number of new passions. "I just have this other interest I love, you know?"
[From Details]
God, he's so sexy. I have a thing for Baryshnikov too, so this isn't the first ballet dancer I've idly thought, "Damn, I bet he's crazy flexible." Oh, and do you think Natalie was a homewrecker? I had forgotten about that, but CB wrote about it back in January. You notice Ben doesn't really deny it, but from what I know about the professional dance community, it's not like they stick with the same partners night after night, you know?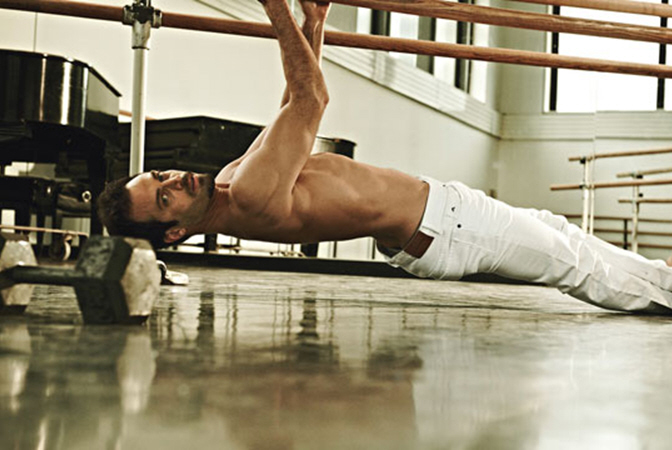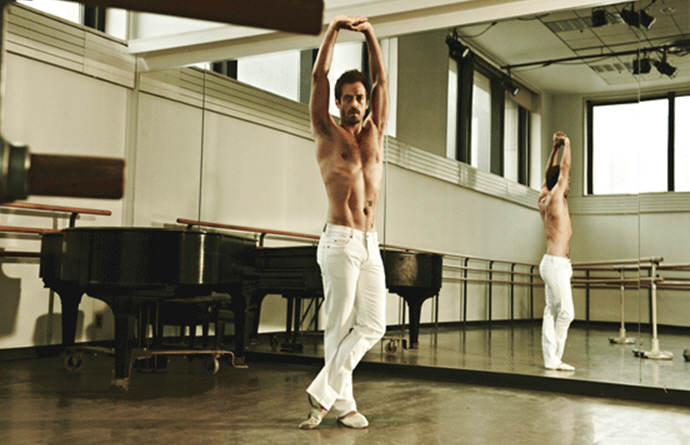 Photo courtesy of Details.