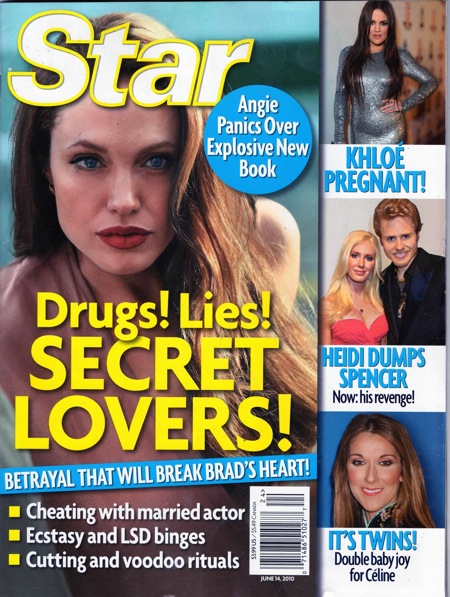 Star Magazine's cover story is yet another sordid "tell-all" piece about Angelina Jolie, this time loosely based on what Star thinks is going to be in Andrew Morton's soon-to-be-released biography of Jolie. My favorite part is the "voodoo" reference on the cover. That must be it, right? Angelina Jolie does voodoo. That's why she exists. If you read the Star excerpt, it becomes clear that just quoted Morton for one part, and then the rest of the story is various sources theorizing on what kind of scandals and stuff will be in the book. Perfect excuse to run a Voodoo Jolie cover.
Over the weekend Angelina Jolie relaxed alongside Brad Pitt at a Malibu beach party as their sons Maddox and Pax splashed in the surf nearby. While things may have appeared picture perfect, a scorching new book is threatening to cause major waves for the actress!

In the June 14 issue of Star — on sale today — we report that a racy new tell-all by famed author Andrew Morton is set to blow the lid off Angelina's scandalous secrets. And the mom of six — who has carefully cultivated her image as a devoted mother after being branded a homewrecker for luring Brad Pitt away from Jennifer Aniston — has been desperate to keep the info under wraps!

"I interviewed dozens of her friends and associates, and they told me some fascinating facts about Angelina and her relationship with Brad," author Andrew Morton tells Star in our new issue. "She will have to wait to find out what's in it."

But before the book hits shelves on Aug. 3, Star can exclusively reveal what's got Angelina so worried: The exposé will detail her drug use, reveal her many sex partners and divulge even more outrageous secrets.

"Angie is completely panicked," a family friend tells Star.

Pick up Star today for all the details about Andrew Morton's new book about Angelina — including which famous men (some married) she's been linked to over the years. Plus: How Brad's been acting out.
[From Star Magazine]
How Brad has been "acting out"? Because he's 4 years old, right? Because he's always the poor, innocent kid, the victim of Voodoo Jolie. Eh. As far as Angelina's crazy sexual partners, etc, don't we already know everything? At some point, doesn't it just seem like they're throwing names into air, and claiming, "Oh, Angelina boned him in 2003." I'll start one. Owen Wilson – Angelina boned him in 2002. Truth.
In one other piece of Angelina news, Asian media outlets are reporting that Angelina's promotional tour for Salt will be extensive, and that she will be visiting South Korea for the first time.
Star Mag cover courtesy of CoverAwards.