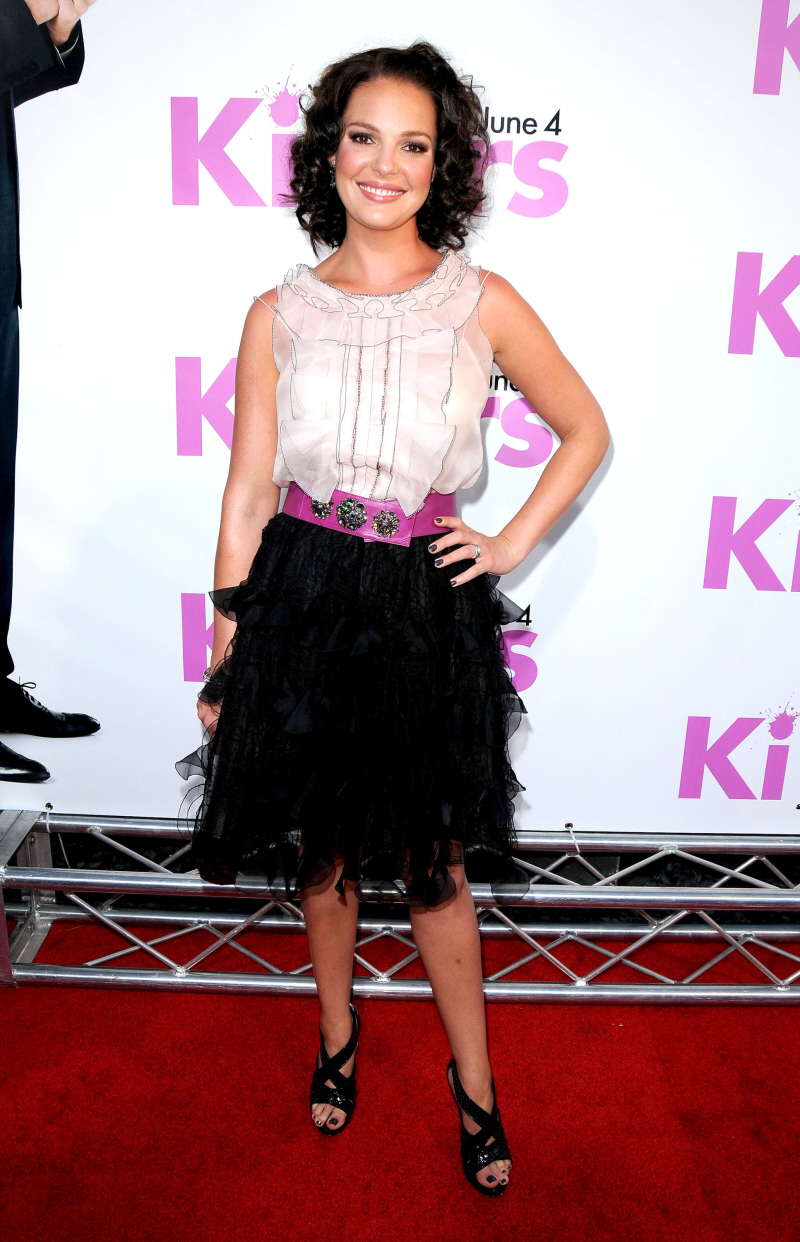 When I first saw these photos of Katherine Heigl at last night's premiere of The Killers (costarring Ashton Kutcher, who also walked the red carpet), my initial thought was "hideous". But actually, it's not terrible. Personally, I think Katherine looks prettier and younger as a blonde, but for someone with little to no style (like Heigl), she doesn't look horrible. It's a very RHONJ look, right? Big, teased hair, big skirt, big tan. Like she's stepping out of a casting call for Working Girl: The Musical.
Katherine recently spoke to Gala Magazine about her desire to have more kids. Here's an excerpt from Us Weekly:
Is Katherine Heigl's 17-month-old daughter, Naleigh, about to become a big sister? "We would love to have a second child, adopted or biological," Heigl told Germany's Gala magazine. "We're not ruling it out."

Moved by the devastation that occurred in Haiti earlier this year, Heigl hopes to provide a better life for one of the children affected by the earthquake.

"Just look at Haiti. There's so many parentless children," she said. "It breaks my heart. I want to help."

It wouldn't be the first time Heigl and her husband, Josh Kelley, have adopted from overseas. The Killers actress, 31, adopted Naleigh, a special needs child from South Korea, in 2009. Heigl later revealed that she named her baby after her mother, Nancy, and her sister, Margaret Leigh, who was also adopted from Korea.

"I'm very grateful to be a mom," Heigl tells UsMagazine.com. "It's changed my whole perspective in a good way."

But when Heigl and Kelley do add to their brood, don't expect the couple's children to grow up like most Hollywood tots.

"I don't want [Naleigh] to have a Beemer on her 16th birthday or spend the summer at a beach house with friends," Heigl said last month. "You want a beach house, you pay for it."

As for when the adoption might take place, Heigl is still unsure.

"I often plunge into things and hope everything will be alright," she says, adding that it would be nice to have "a little friend" for her daughter.
[From Us Weekly]
I think Katherine probably will adopt again, at some point. I doubt it's happening any time soon, though. She's a movie star, after all! God, I hope The Killers crashes and burns at the box office. It looks seriously terrible.
By the way, as I mentioned, Ashton walked the red carpet too – with Demi, who was wearing a beautiful full-length gown in a gorgeous peacock-blue/green. It seems a little too dressy for a premiere, right? Do you think Demi is trying to fashion c-ckblock Katherine? It's not difficult. Katherine generally looks like she's getting dressed in the dark.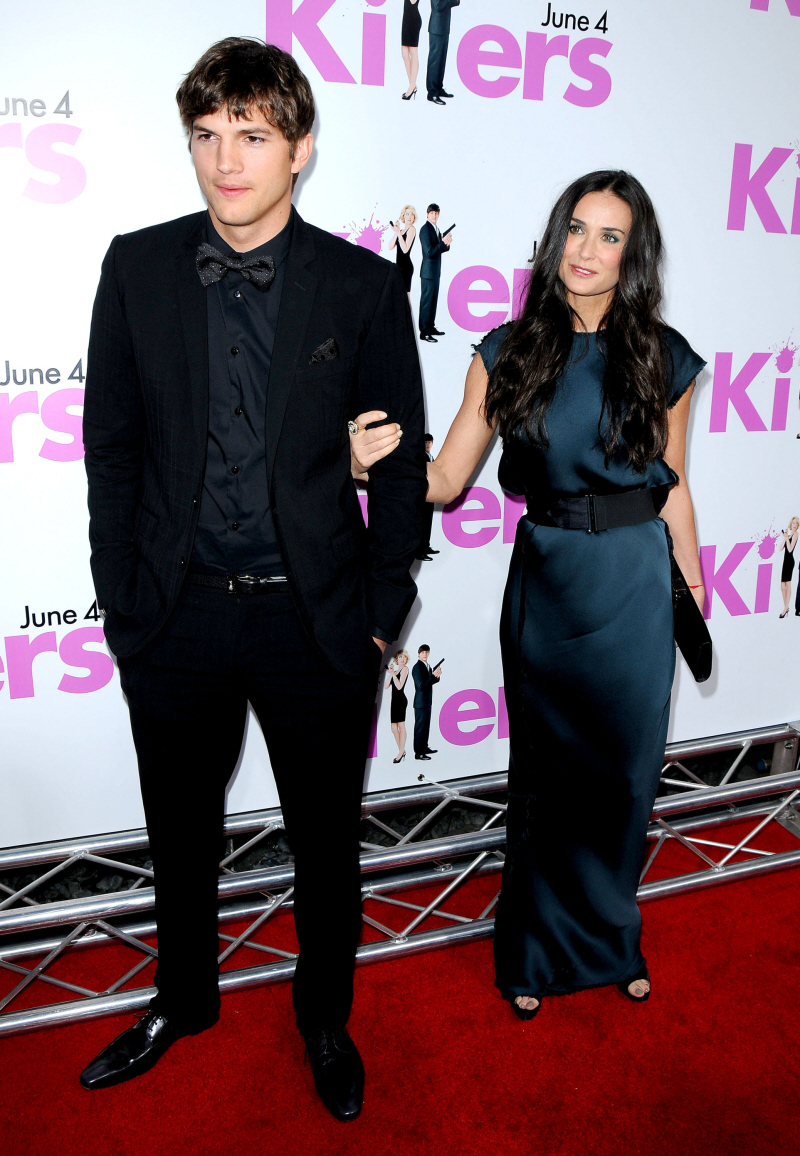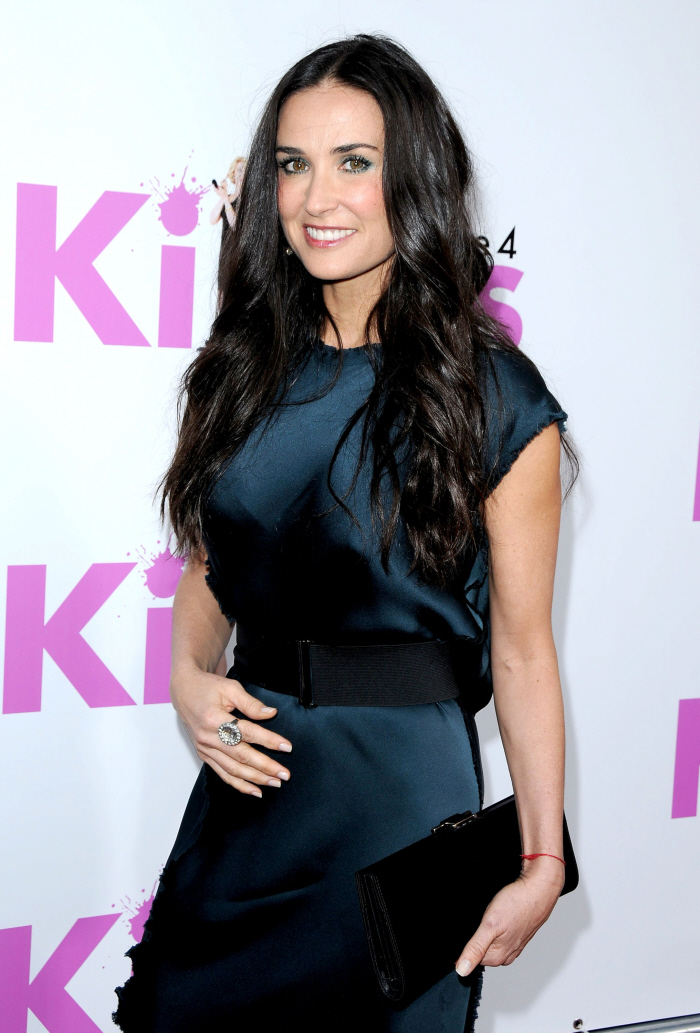 Photos of the premiere, June 1, 2010. Credit: WENN.