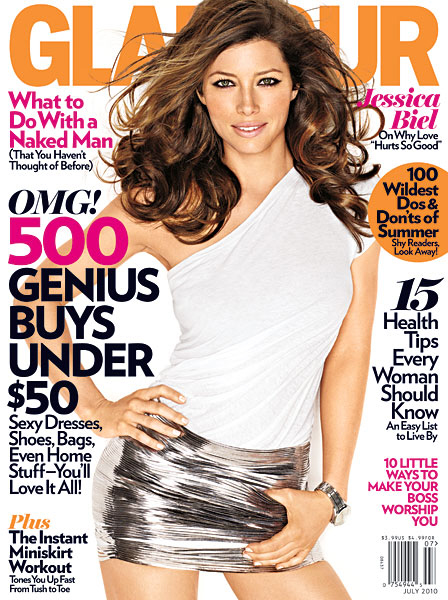 Jessica Biel is the cover girl for the July issue of Glamour Magazine. Predictably, the magazine climbs up her ass and stays there for the duration of the interview. Take this part of the introduction: "How is it possible that most of us know so little about this everywhere woman? It has a lot to do with the fact that Biel, 28, is so private about her relationship. ("I want to keep that answer to myself" is her polite response when asked if she's in love, despite the breakup rumors.)" Oh, isn't she just the cutest thing? The interview is pretty boring, honestly. When Biel isn't pontificating about what a hindrance her beauty is, or how she's the second coming of Meryl Streep, reading her interviews is like watching paint dry. I guess the interesting stuff is mostly what she says about relationships and how they "hurt so good".
GLAMOUR: Who taught you the value of money?
JESSICA BIEL: My parents—they are frugal. My dad worked really hard for us.
GLAMOUR: I wanted to ask: Your parents have had a very long and happy marriage. How does it impact your outlook on coupling?
JESSICA BIEL: Well, I think I just watched. My role models were two people who were always kind, loving and supportive of each other, not to say that they are perfect, because nobody is.

GLAMOUR: They were enthusiastic about each other.
JESSICA BIEL: And also very realistic. You make a choice every day to be there. It's not a fairy tale.
GLAMOUR: What surprised you most about falling in love? Because I don't think what love feels like to a 16-year-old is what love feels like to someone who's 23, 29 or even 40.
JESSICA BIEL: It is different. Does it make sense that [younger people] can't imagine how much it hurts?
GLAMOUR: Absolutely.
JESSICA BIEL: It hurts so good. Does that make sense?
GLAMOUR: Sure. How do you stay solid when you're romantically linked to a big star? Because his thing is no small thing. How do you maintain your thing alongside his?
JESSICA BIEL: I guess I would say my thing is just as wonderful. And that's the only way—when you each have your own world and it's just as great.

GLAMOUR: Now let's talk fashion.
JESSICA BIEL: I'm not someone who has this amazing instinct about fashion. Sometimes I cannot be bothered, kind of like today. [Biel is wearing a gray T-shirt, J Brand jeans and Roger Vivier flats.] I just throw on whatever is comfortable. Other days I will torture myself—do I want to do funky and cool, or feminine?
GLAMOUR: You're a tomboy.
JESSICA BIEL: Yeah. I literally spent most of my teenage years in Umbro shorts and No Fear T-shirts.

GLAMOUR: Tell me about your A-Team character, Charisa Sosa.
JESSICA BIEL: She's incredibly motivated and driven. She's a hard-core adrenaline junkie. She's just as smart and able as the guys on the A-Team. She's their equal.
GLAMOUR: It's not a romantic part, and you seem like a romantic. So it's a whole other side of yourself.
JESSICA BIEL: Well, I'm also an adrenaline junkie. I'm a romantic adrenaline junkie!
GLAMOUR: That could be your personal ad: "Romantic adrenaline junkie seeking…
JESSICA BIEL: [Laughs.] …walks on the beach and jumping out of airplanes."
GLAMOUR: And in the movie you shoot guns? Any complicated feelings about that?
JESSICA BIEL: I had this really sexy 9-millimeter Beretta, and I trained a lot with an M4 machine gun. Before, I felt very scared of guns. But you learn about them and then you feel capable, and it becomes an empowering experience.

GLAMOUR: What's been the toughest choice that you made in your life?
JESSICA BIEL: [Leaving college] was one. I do still have a desire, a pang in my heart, when I think about it and the fact that I didn't spend my four years with my friends. I didn't stay with my friend Hayden in our apartment—I bailed and she ended up living with some random people. I still feel bad. But then again, I've had wonderful experiences.
[From Glamour]
Eh. Why does Jessica Biel force us to play this game? Are we really supposed to think she's in a successful relationship with Justin Timberlake? I don't. I think/know he's cheating on her with random go-go dancers, and those are just the girls we know about. Maybe they have an open relationship, but I'd be willing to bet that "open relationship" is all about Justin wanting to find a way out of the relationship and Jessica being a clingy dishrag. But, whatever. It's her life, it's her business. It just amuses me when she's asked about her relationship with Justin like they have a "successful" relationship in which she can give advice to couples who are struggling.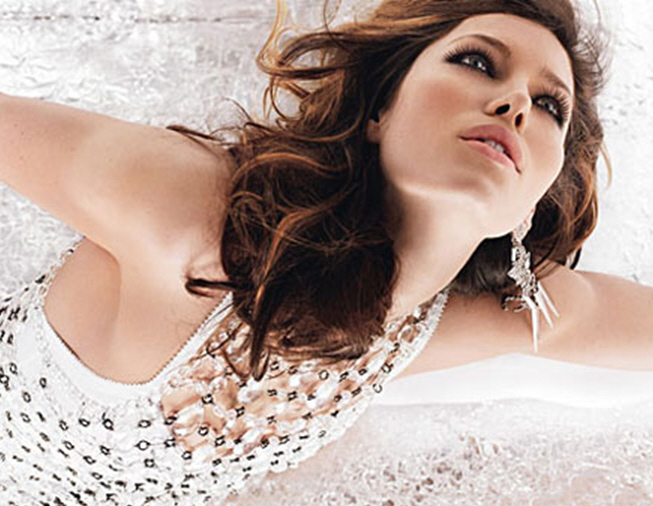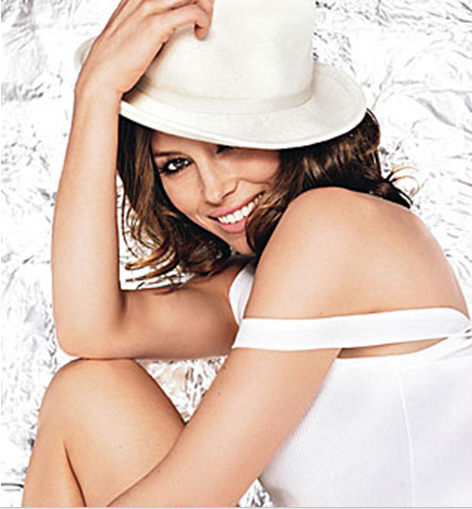 Photos courtesy of Glamour.