Vanessa Paradis got the cover of the July issue of Harper's Bazaar UK, as well as a joint cover of the magazine Madame Figaro, with Karl Lagerfeld. The Fashion Spot commenters were expressing surprise that Paradis would get the cover of a big British magazine, but surely Paradis is a big enough name, right? She's been with Johnny Depp forever, they have two kids, and plus, Paradis is an established model/singer/actress/muse. Paradis also took over Lily Allen's modeling duties for Chanel handbags. Anyway, I found some excerpts from the Bazaar interview:
Vanessa Paradis and Johnny Depp are one of the most private couples in showbiz. So much so that it's rare to spot them out in public together, never mind on the red carpet.

But in an exclusive interview with Harper's Bazaar magazine, Vanessa unveils some intimate details of their life together. The actress, singer and Chanel model describes her relationship with the 47-year-old Pirates Of The Caribbean actor as the "mutual taming of two kindred rebel spirits. We tamed each other".

She goes on: "Johnny is a very special guy, he has so many talents. He is a wonderful father and does so many different things so well."

Unlike Brad Pitt and Angelina Jolie who are hounded by the paparazzi and extremely high profile, Vanessa and Johnny keep themselves to themselves, shunning the Hollywood limelight for a quieter, more normal life in France.

Vanessa explains their reasoning behind this decision: "Our jobs make us do extraordinary things, and we travel and see lots, but the rest of the time we're quite quiet. We are apart a lot, but talk every day. We don't go to many parties or do a lot of red carpet. I prefer to be at home or working, and we can work anywhere. Nowadays with technology, you can record pretty much any place."

The couple have two children together – Lily-Rose,11, and Jack, 8, not to mention four homes, a Caribbean island, and a yacht. There have been incessant rumours in the press that the pair are planning on buying a property in the UK but Vanessa says otherwise: "Apparently, we are buying a house every year… I surely dream of a house in England, but it has not happened yet."

She also said: "I don't think French women have more style. Maybe it's because Paris is a city where you walk in. In America, everyone drives, and you cannot see what anyone is wearing when they are locked in a car. Here, everyone checks out each other. We communicate with clothes here more and, as a result, inspire one another."

The 37-year-old beauty – who is one of the faces of French fashion house Chanel – also revealed how she has given up smoking to help stop the ageing process.

She told Britain's Harper's Bazaar magazine: "I quit smoking roll-ups, which helps enormously; that's it. I do drink lots of water, though I like wine – Bordeaux."
[From Harper's Bazaar UK, via Contact Music & Sky Showbiz]
I'm glad she stopped smoking. And the wine is probably good for her. As far as what she said about Johnny… did anyone else swoon a little when they read, "mutual taming of two kindred rebel spirits. We tamed each other"? I mean, come on. Is it really that awesome to be Johnny Depp's baby-mama? Probably. Sigh… lucky bitch.
Oh, and prepare yourself – Paradis as Bardot with Karl Lagerfeld, as The Anger-Bear. YIKES.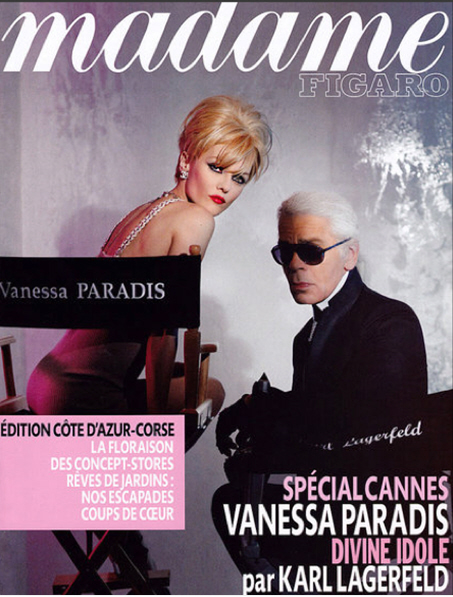 Madame Figaro cover courtesy of CoverAwards. Harper's Bazaar UK cover courtesy of The Fashion Spot.