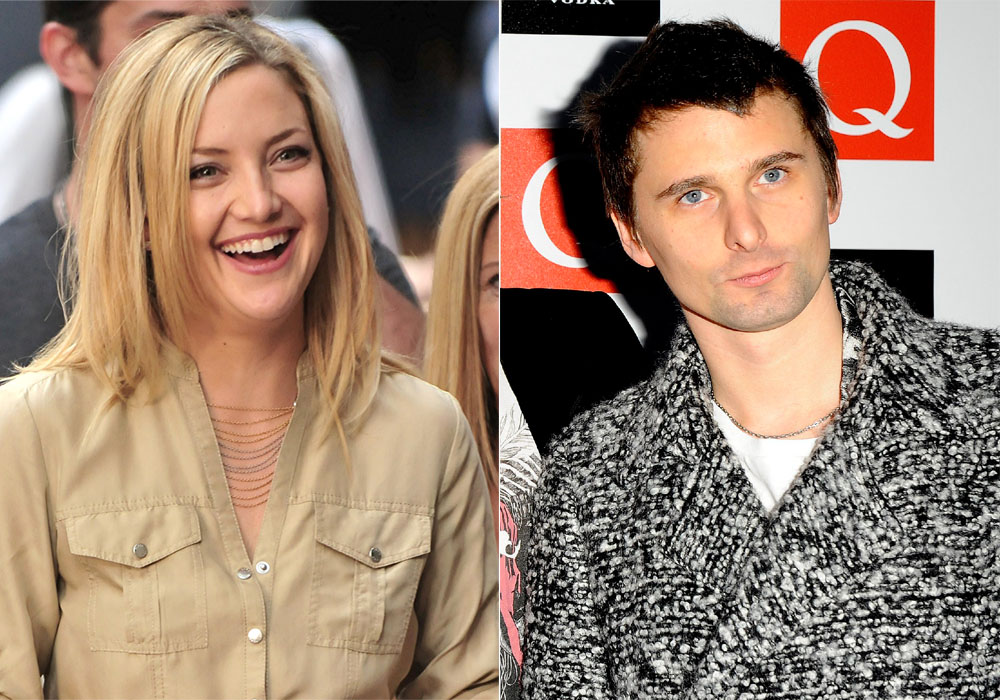 Kate Hudson is one busy lady. She was last linked to her co-star Colin Eggelsfield, but that rumor seemed to have been based on some photos of them filming their upcoming movie, Something Borrowed, in which they were necessarily touchy-feely. The two were acting, and while I could see Kate hooking up with her hot also-single co-star I think the verdict is still out on that one.
The last maybe-legitimate report we heard about Kate Hudson's dating life had her hooking up with hotelier Jeff Soffer, 42, who used to date Elle McPherson. US Weekly carried that report in late April, and claimed that Kate had been dating Soffer for about a month. If US is to be believed, Kate is either playing the field or has moved on already. They report in the new issue that Kate is dating a musician called Matthew Bellamy. Her ex husband is the lead singer for the Black Crowes and Kate might eventually settle down with another musician.
Katie Hudson is… seeing Muse frontman Matthew Bellamy, 32. Still, a pal insists the romance between the star, 31, and the British musician, who is touring in Europe and Asia with his band until mid-September, is in its early stages. "They hung out, and that's all it is," the insider says of the duo, who met at Indio, California's Coachella Valley Music and Arts festival in April. Agrees another source, "it's very new. It could be a fling. It's hard to keep up with her dating habits.
[From US Weekly, print edition, June 14, 2010]
At least Kate is kind of keeping her dates on the down low. US Weekly seems to be the only tabloid with any solid news of her love life recently. (The Colin Eggelsfield story originated in Star and I would guess they made it up. They've had some decent scoops lately, though, so it could be true.)
Kate gets so much grief for her dating life, and that's because there's so much news about it. She was photographed all over the place with her exes Lance Armstrong in 2008 and then Alex Rodriguez last year. In between, she was linked with several men including ex Owen Wilson, an Australian golf pro, LA Clippers player Baron Davis, and Jason Statham.
To be fair to Kate, she may take her men to paparazzi hot spots and sit happily at their sporting events, but she doesn't talk much about them. She refused to confirm her relationship with Lance Armstrong when she was asked about it on The View in 2008, and she didn't say much about A-Rod when she was with him. It's not like she's Drew Barrymore enthusing about how deep her love is. She's playing the field and maybe she's being realistic about it. It may seem to us that she falls too hard and fast but it's not like she wastes time moving on.
Matthew Bellamy is shown on 5/26/09. Kate Hudson is shown on set on 6/3/10. Credit: WENN.com