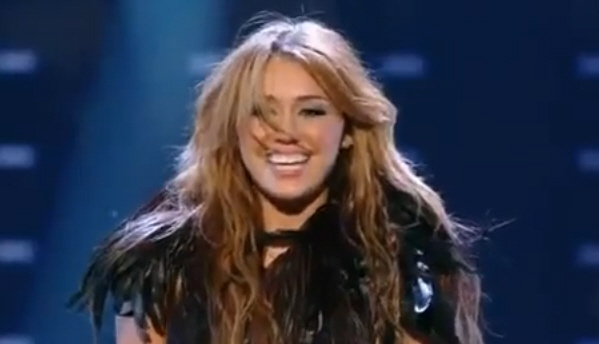 It's no secret that Miley Cyrus is taking the Britney Spears/Lindsay Lohan lead in showing everyone how "grown up" she is. I had high hopes for Miley, that she would be the child star that would grow into some semblance of a well-adjusted woman, but I don't think that's going to be the case. Just this week, we were treated to Miley's cameltoe during her performance in Portugal, where she was also waxing on about her ex, Nick Jonas – then, we heard that Miley and her boyfriend of a year, Liam Hemsworth, had probably broken up. Except that Miley denied that they broke up, writing on her website:
"Just wanna clear up a rumor. Liam and I did not break. EVER! We are so happy and a lot of that has to do with the amazing relationship he has with my family. We are both so busy right now, so having them by our side supporting us and our career is such a blessing! So any type of rumor that said there was drama with them is completely false. Thanks for letting me clear that up. :)"
[From Miley's website, via Just Jared]
Eh. So maybe they didn't split. In any case, Miley was already having a pretty media-soaked week. So, what next? An appearance on Britain's Got Talent, complete with feathers, uncoordinated dancing (in another leotard) and a girl-on-girl kiss. Oh, Miley.
The "kiss" happens around the one minute mark. It doesn't even look that exciting or titillating or artistic to me, just Miley pretending to kiss someone I didn't even get a good look at. After Miley comes trotting out on stage, literally like a horse, I knew it was going to be bad. But after the first half-hearted pelvic thrust, I wondered if Miley was telling the world that she's sad. Of course, another thing occurred to me – perhaps Miley is less "pulling a Britney" and more "pulling an Adam Lambert"? Because that's who she reminds me of in this performance. She's like a budget Glambert – and that's a really, really bad thing.