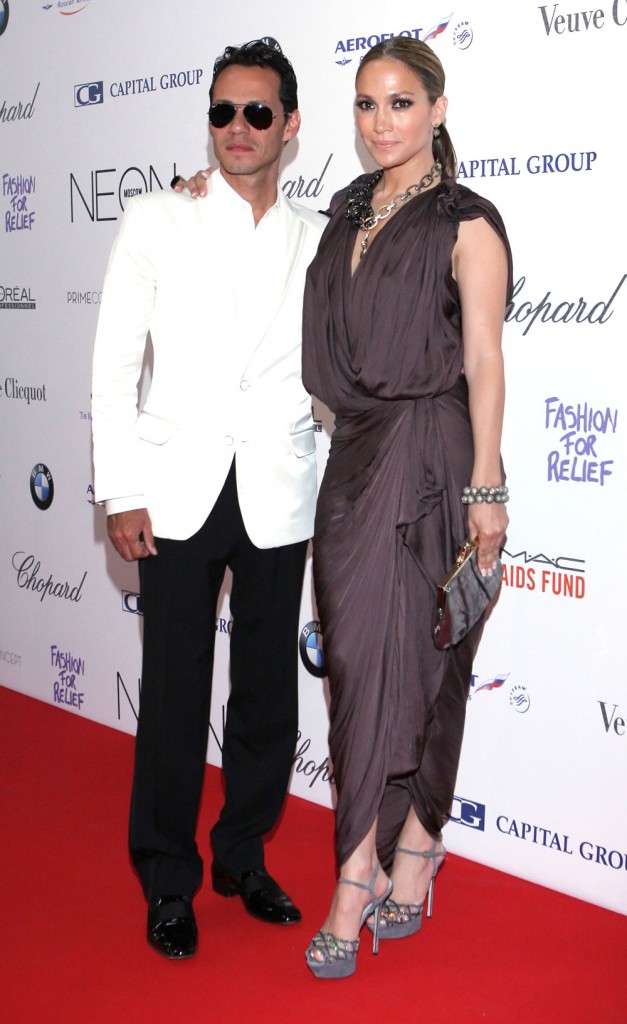 Jennifer Lopez and Marc Anthony held a star-studded soiree on Saturday. The couple of a shocking six years held a party with the joint purpose of renewing their wedding vows on their anniversary and showing off their new home, a sprawling 17,129 square foot mansion in the Hollywood Hills boasting nine bedrooms, 12 bathrooms, a media room, recording studio and guest houses. The couple sold their "Tuscan Estate" in Bel Air at the end of last year for $7.5 million, about $1.25 million more than they paid for it in 2005. They also own two mansions next door to each other on Long Island and a luxury condo in Miami. I can't help but guess that they're overextended. In 2007, Anthony owed $2.5 million in back taxes to NY State after failing to file for four years in a row. The couple want to show that their finances, along with their relationship, have been looking up though. This will be the second time they've renewed their vows: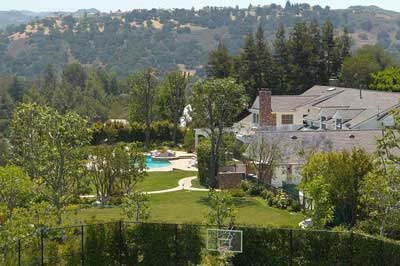 It wasn't just any housewarming in Hidden Hills, Calif., Saturday night. Jennifer Lopez and Marc Anthony were providing the heat, as the couple not only welcomed A-listers to their sprawling new San Fernando Valley residence but planned to cap the celebration by renewing their marital vows on what is their sixth wedding anniversary.

"They wanted to celebrate their new home and their sixth anniversary by renewing their vows," a source tells PEOPLE. "They're excited about their new life together as a family in California and wanted to kick it off with a great party."

Among those on the 200-guest invitation list, says a source, are Tom Cruise and Katie Holmes, and Brad Pitt and Angelina Jolie.

"Jen is very excited about sharing her special night with her family and friends," the source adds. "The party will be spectacular. Guests will enjoy dancing until the morning hours."

Like the invitation, the party features an art deco-theme with the colors gold and silver. The card, which features a large gold key, reads, in full:

"A NEW BEGINNING
PLEASE JOIN US AS WE
"WARM OUR HOUSE"
with a
6th
ANNIVERSARY PARTY

JUNE 5TH, 2010 AT 8:30 PM

Jennifer & Marc Anthony Muniz"

Renewing their vows is becoming something of a tradition for the couple – who got the ball rolling for the first time in 2008. That year – which also brought the February birth of their twins, Max and Emme – they also did it up big by joining New York Mets outfielder Carlos Beltran and his wife Jessica for a joint vow-renewal ceremony in Las Vegas.

As for their humble abode, it is anything but. Purchased by the couple earlier this year for just under $10 million, it is spectacular and ultra private. All told, within its three acres there are nine bedrooms, 12 bathrooms, panoramic city views, rolling lawns, a swimming pool and a tennis court. Also inside: a fabulous 20-seat theater, a recording studio and a wine cellar.
[From People via Gossip Rocks]
People Magazine has a photo of the party invitation and it's very Gatsby style, which is what I assume they were going for. These two adore flashy luxury and suit each other perfectly. They can't even celebrate their love without reveling in their wealth. Here are some photos of their home, which is just as over the top as you might expect. They need to keep the industry types entertained so they continue to afford the lifestyle that gives meaning to their relationship.
Event photos are from 5/24/10, credit: WENN.com. House photos from Shelterpop via Novice on Gossip Rocks